May 18, 2022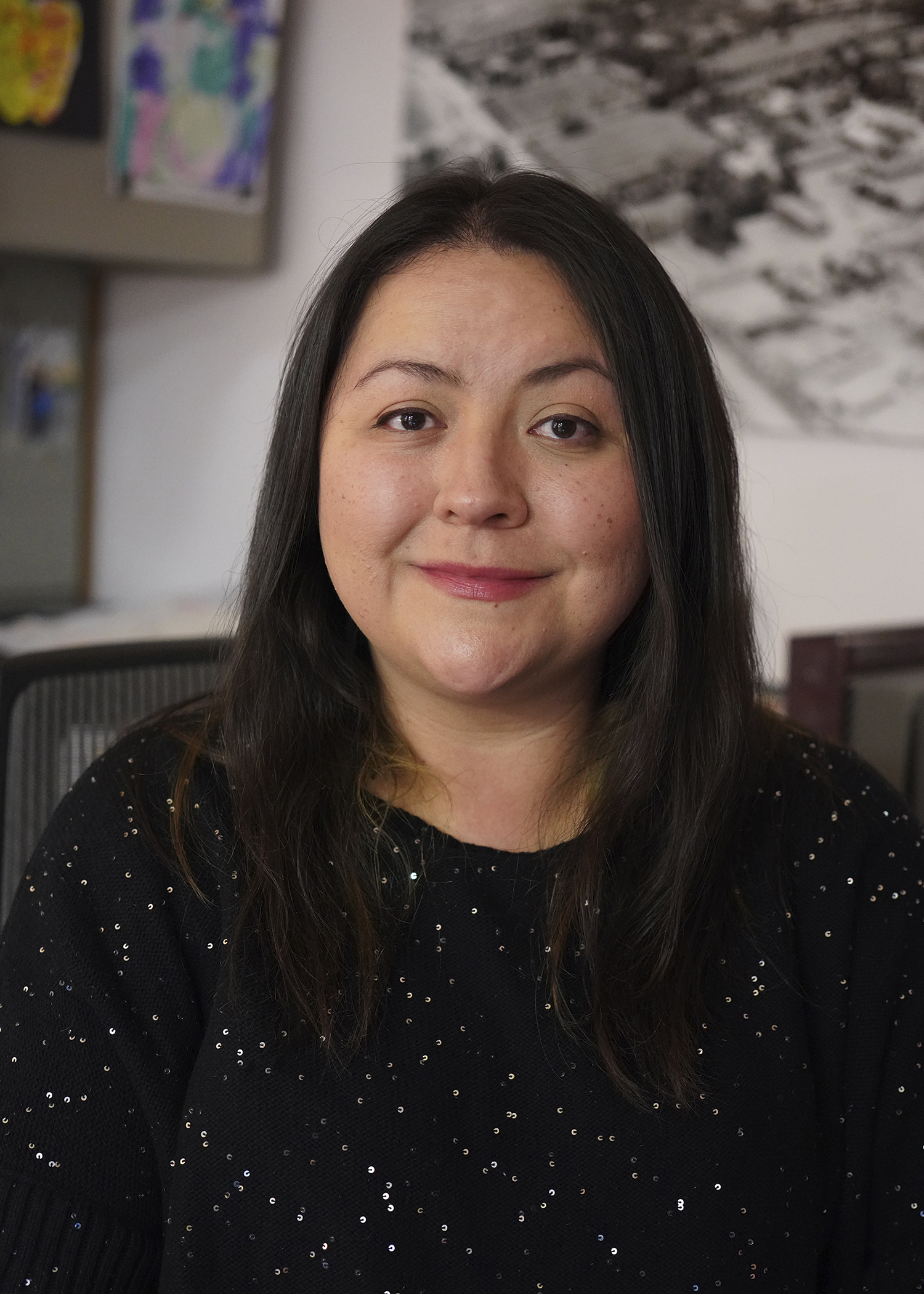 Elizabeth Villa, NMSU Library
For 15 years, Elizabeth Villa has been a part of shaping and progressing the New Mexico State University Library by providing the resources and accessibility to researchers across campus and the globe.

In 2005, Villa was hired at the NMSU Library as a student in the cataloging department. She then climbed the ladder after graduating in 2007, and eventually began working with the Archives and Special Collections department in 2010.

Villa is the archives image specialist lead, but also has background experience in graphic design.
"The primary duties for this role are caring for the photographs and making them accessible to researchers," Villa said. "This role has allowed me to work with the photos and put my graphic design background to use by working with the exhibits and promotional material for the department."

Looking ahead for future generations and researchers, Villa adds that it's important to ensure the value of all photo archives and keep them maintained in the utmost condition.

"I think it's important to preserve the photographs just for that visual history. To be looking back at how things used to be, and helping researchers track down something that used to be in a specific location," she said.

Overall, her experience working at the NMSU Library has also opened doors to work with others beyond her department and learn more about the university.

"In the archives department, we have a really great group of people who are easy to work with. In my position, I also get to work with people across the library, across campus and in the community. That's been really great to get out beyond the library."
---
March 30, 2022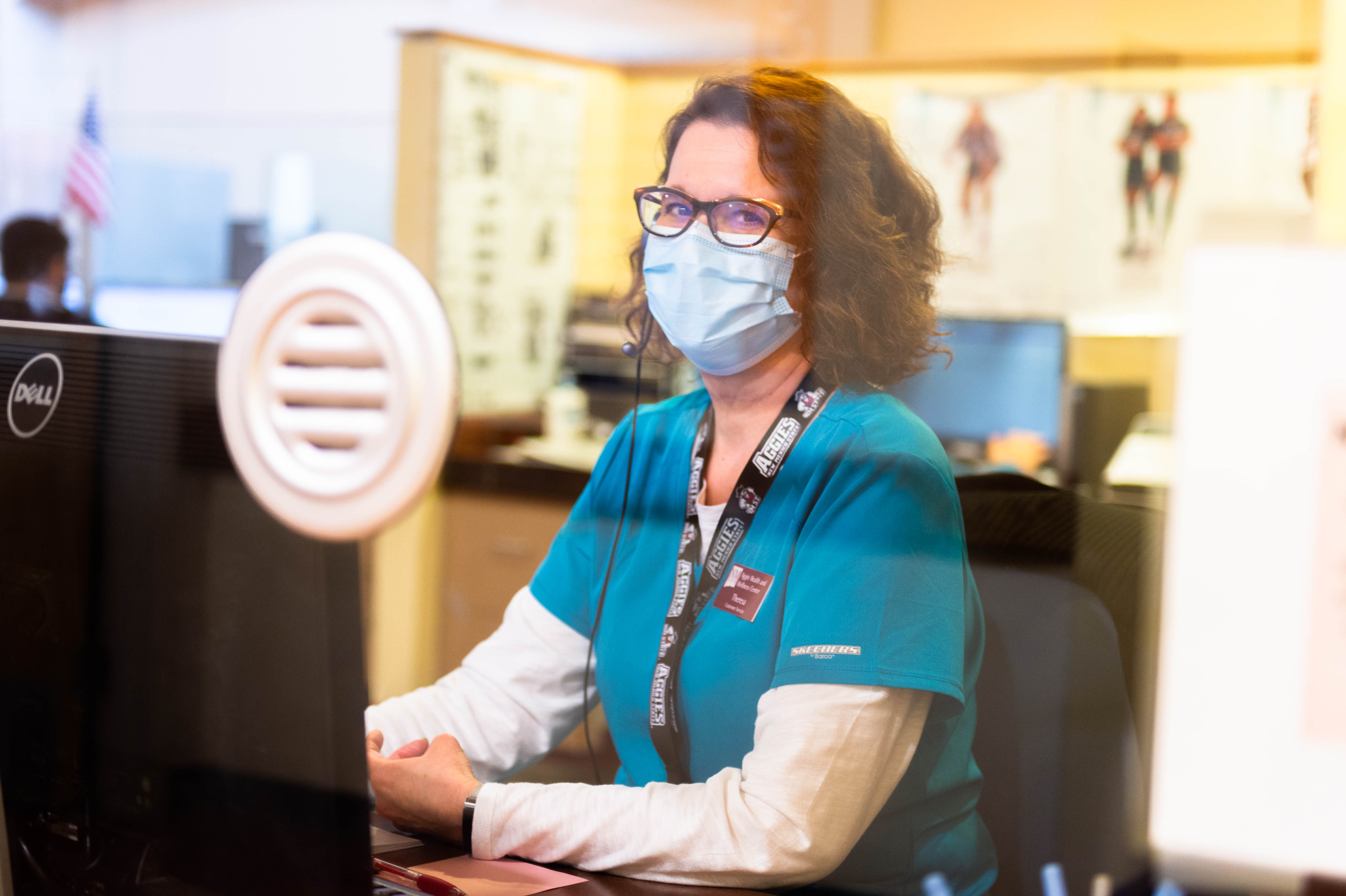 Theresa Martinez, Aggie Health and Wellness Center
Theresa Martinez has worked at NMSU for 23 years. For the past five years, Martinez has been a customer service associate at the Aggie Health and Wellness Center, where she assists clients and patients at the front desk. Before that, she was an administrative assistant at Counseling and Student Development for 18 years. When Counseling and Student Development merged with the Aggie Health and Wellness Center, Martinez moved as well. 
"I've met and worked with a lot of good people during my time at NMSU," Martinez said. "I enjoy seeing students go from freshmen to senior and beyond. I've met many kind students who have had an impact on me. I love to see them go on and do great things after graduating from NMSU."
Martinez's current responsibilities include answering phone calls from patients and clients. Those phone calls can vary from caller to caller, and Martinez handles all inquiries. When Martinez receives a call from a new patient, she creates a patient profile and enters all their information into it. She then schedules the patient for a call from a triage nurse, who then makes their appointment with one of the center's providers. For new counseling clients, Martinez enters all their information and connects them to an on-call counselor, who will start their counseling services. 
At the end of the day, Martinez reconciles patient tickets so that charges can be applied to student accounts promptly. She also performs check-out duties, making sure to collect any office visit, lab or pharmacy fees, or charge a patient may have incurred. Martinez said collecting fees has been challenging during the COVID-19 pandemic. She added that she and her co-workers have had to adapt to many changes in procedures over recent years to make medical and counseling services available to NMSU students, staff and faculty.
---
March 16, 2022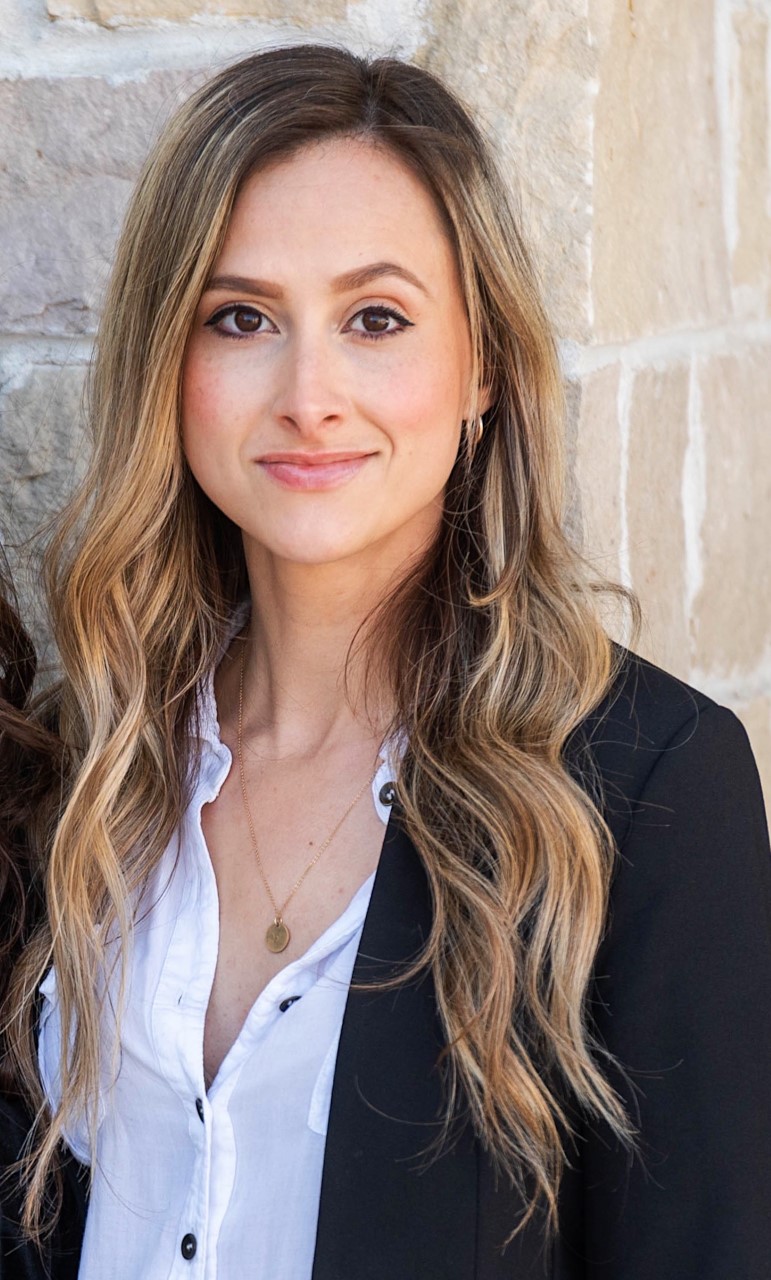 Jasmine Herrera, University Art Museum
Jasmine Herrera has worked at New Mexico State University since 2014. She is the coordinator for the University Art Museum. Herrera's job includes fiscal management; long-term exhibition production and logistical planning; artist coordination; grant editing and implementation/management; overseeing student employees, interns and volunteers; and managing day-to-day operations of museum spaces and events.
"It is important to me to work in an environment that propels positive social awareness and change," Herrera said. "The UAM is in a unique position to bring world-class artists to NMSU and engage with them to expose our students and members of our community to significant social conversations happening in contemporary art." 
Herrera also takes on more specific projects related to research. Most recently, she worked on gaining physical access to the landlocked area of Blackdom, New Mexico, for a collaborative, site-specific piece by an artist whose exhibition ran at the UAM from Jan. 21 through March 5. This research included working with private landowners, the state of New Mexico, Chavez County, and multiple researchers and archeologists. After several months of work, access was officially granted, and the result was shown in Nikesha Breeze's exhibition at the art museum. 
This Friday, March 18, the UAM will host its Juried Student Show, featuring artwork from NMSU undergraduate and graduate students. It is one of many projects in which Herrera works with students.
"I feel privileged as an NMSU alumna to work with students one-on-one and to help them further their careers in the visual arts," Herrera said.
---
Feb. 23, 2022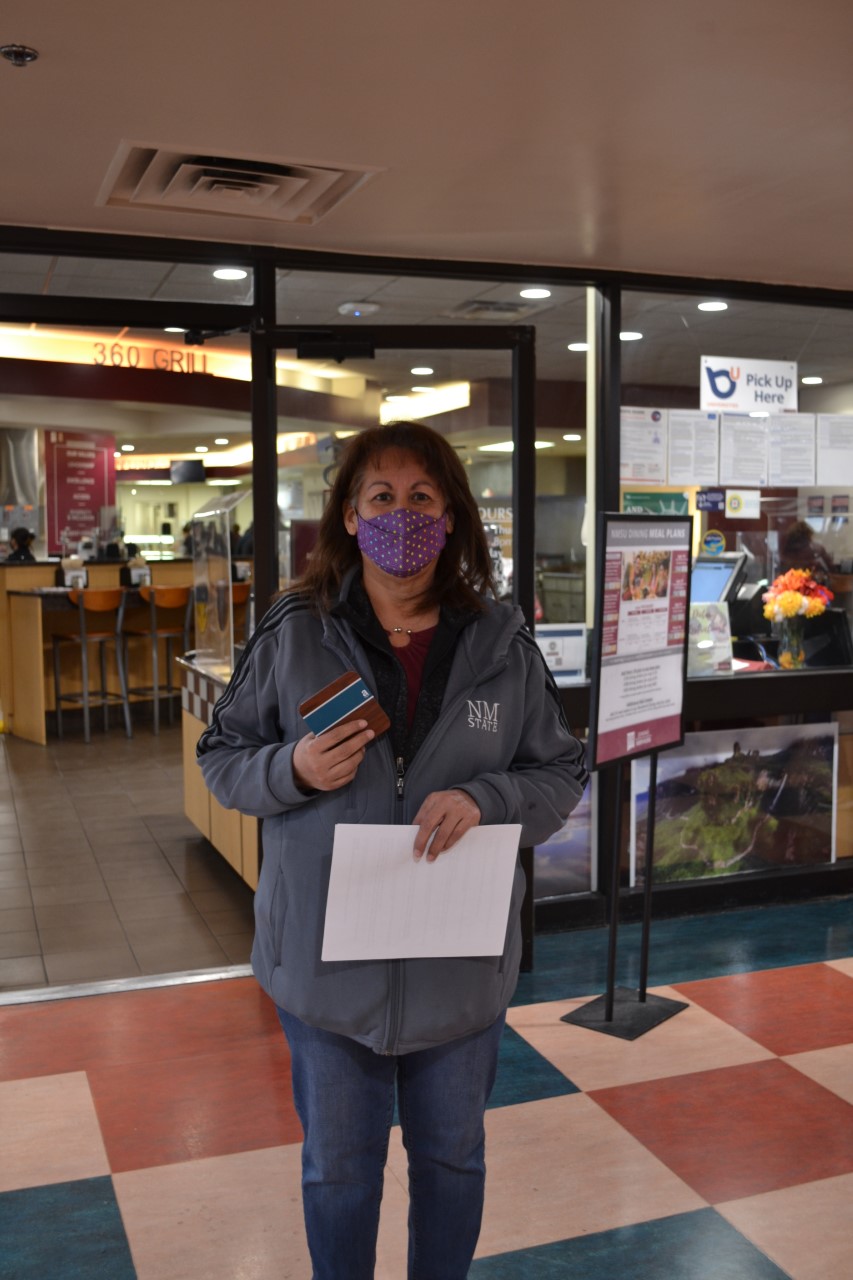 Elaine Lopez, Special Events
Elaine Lopez is the assistant manager of the ticket office for special events at New Mexico State University. Lopez has been a part of the Aggie community for more than 20 years. 
Lopez was recently named one of 19 randomly selected winners in the "Pedal Forward, Give Back Sweepstakes" contest by Sodexo. Students, faculty and staff across the nation had the chance to win one of 19 $500 donations in the national prize sweepstakes, which is centered on building a positive movement and taking steps towards positive change.  
 
The donations can be gifted to the winner's campus food pantry or a local hunger-related charity. Lopez chose Aggie Cupboard, NMSU's food pantry, as her charity beneficiary. She said she's seen students struggle in various ways, including not knowing where their next meals will come from.  
 
"Having been blessed to work with many wonderful students at NMSU has allowed me to see how much the Aggie Cupboard has helped many people here," she said. "The choice to pick Aggie Cupboard was just too easy for me, because I feel I can help them help others in a time of need, right in my own community here at NMSU." 
---
Feb. 9, 2022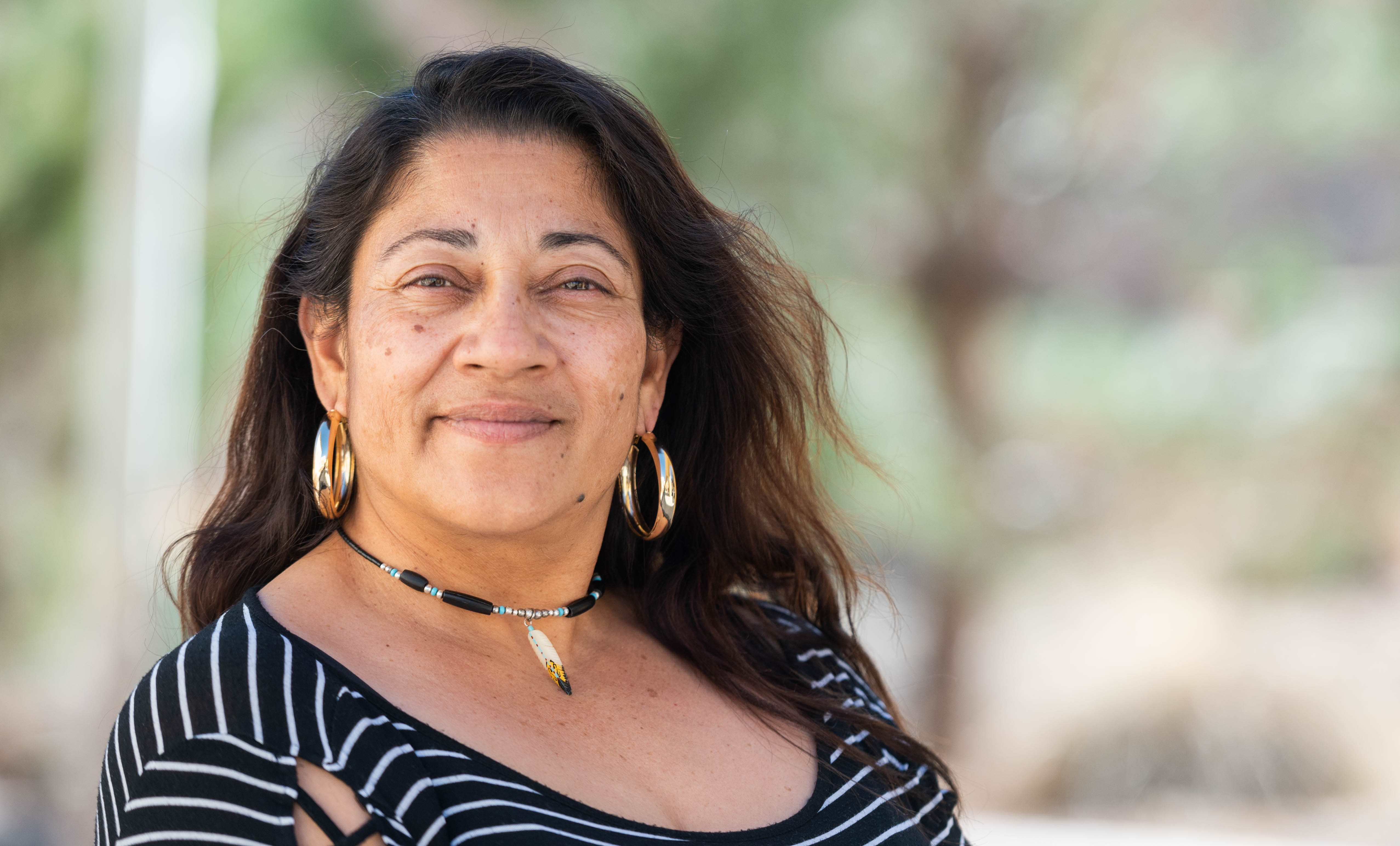 Veronica Jackson, Student Success Center
As Student Program Coordinator for the Alamogordo high school TRIO Upward Bound Program, Veronica Jackson works to prepare students for college. One of her responsibilities includes conducting after-school sessions, which are tailored to teach students about writing, emotional and social well-being, culture, diversity, time management, cover letter and resume writing, research, stress management, academic advising, tutoring and mentoring.
Once a month, Jackson prepares and assists with Saturday Academy on the Las Cruces campus. At the Feb. 5 event, students learned how to prepare a research paper and how to look for reliable resources; techniques that will be implemented in the next after-school session.
"I love what I do," Jackson said. "I love working with the students and the parents. I would go above and beyond for them. I have learned so much from my supervisor Toni Dixon, and she has been a great mentor as well as a guide in learning the program. The more I learn about the program the more passionate I become and the harder I work for the program, my students and my parents."  
Weekly, Jackson meets with seniors to help with their financial aid applications, college applications, scholarship applications, letters of recommendations and introduction to programs such as the Summer Bridge program that aids in the transition from high school to college. She plans college campus tours for students including out-of-state experiences. In addition, Jackson meets and stays connected with parents to help their students succeed and prepare for higher education.
"I am grateful to have a great support system from the entire department of Student Engagement and Student Success Center."
---
Jan. 19, 2022
Dave Lowry, College of ACES
Dave Lowry joined NMSU in July 2013 to serve as the farm manager of NMSU's Leyendecker Plant Science Research Center, a job he held for eight years until he transitioned into a new role within the NMSU Agricultural Experiment Station in July 2021.
Lowry is now the program operations director for the Agricultural Experiment Station's Farming Operations and the superintendent for the Leyendecker Plant Science Research Center, Fabian Garcia Science Center and the Chihuahuan Desert Rangeland Research Center.
In his former role as farm manager, Lowry was responsible for all activity at Leyendecker and oversaw a staff tasked with the day-to-day maintenance of the research center. Lowry also worked directly with faculty to facilitate research projects at Leyendecker.
"When faculty have an idea for a research project or acquire funding for a project they would like to conduct on Leyendecker grounds, they would send me details, and we would review it to make sure we would be able to fulfill the requirements of the research," he said. "Once we work through any obstacles and have any issues lined out, myself and my crew would then put the plan into motion."
As farm manager, Lowry also hosted classes from NMSU's main campus and outside organizations interested in agronomy, pest management, tillage and cultivation practices. He said he even hosted a group from Yale University that focused on architecture and engineering in agriculture. 
Lowry said his new role allows him to focus specifically on the farming aspect of each center in the AES system. He said he works with farm managers throughout the state, assisting with any issues they might encounter at their respective ag science centers.
"As a superintendent, I have the pleasure of working with the faculty who utilize our ASCs. I have the responsibility of disseminating the research criteria in a way that makes it practical and applicable to a real-world field trial," he said. "Sometimes research can get very cumbersome from an application point of view, and this is where I get to work directly with faculty and help find solutions that keep the integrity of the research, but also make it work in terms of field preparation and equipment logistics."
 Lowry, a long-life agriculturalist, described himself as a "researcher by nature."
"Every day, I get to collaborate with some of the most intelligent and brightest individuals in their fields of study," he said. "Every once in a while, a project doesn't quite pan out, but then there are those projects that turn out to be game-changers. Being able to say I was a small part of those projects that have a real and positive impact for our stakeholders in New Mexico and beyond is what it's all about."