April 27, 2022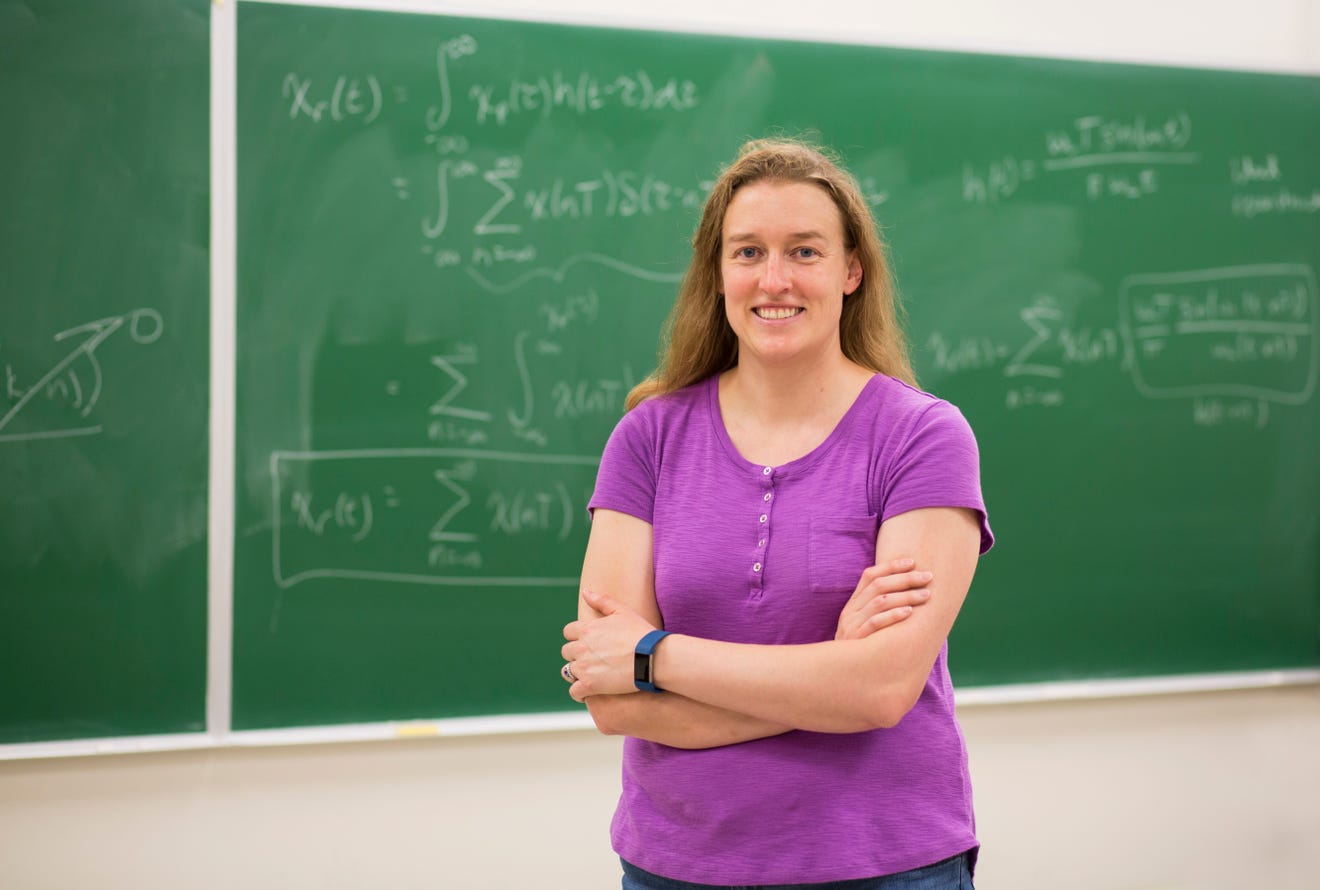 Laura Boucheron, College of Engineering
Associate Professor Laura Boucheron provides a unique perspective to Klipsch School of Electrical and Computer Engineering students. She knows what it is like to walk in their shoes. Boucheron, who earned her bachelor's and master's degrees in electrical engineering at NMSU, took courses with some of the same professors that her current students have.
After earning her Ph.D. at the University of California, Santa Barbara in 2008, Boucheron returned to NMSU as a postdoctoral researcher in 2008-09. Following two years as a member of the research faculty in 2009-11, she became a tenure-track faculty member in fall 2011. 
"I love teaching undergraduates. I enjoy teaching students about the foundations of my field, signal and image processing, and demonstrating to them the power of signal processing in so many applications," Boucheron said. "I am very passionate about encouraging undergraduates to pursue graduate degrees. All of my current graduate students were undergraduates I had in class a few years ago."
Boucheron works with academic analytics trying to find ways to improve curricula and student performance. She's also involved in interdisciplinary topics such as agriculture and astronomy. 
Some of Boucheron's current projects include segmentation of solar images for space weather models, detection of green chile in images for automated robotic harvesting, automated computation of body condition score for precision ranching, analysis of student schedules for degree progression and topic-level analysis of the electrical engineering bachelor's degree.
---
April 13, 2022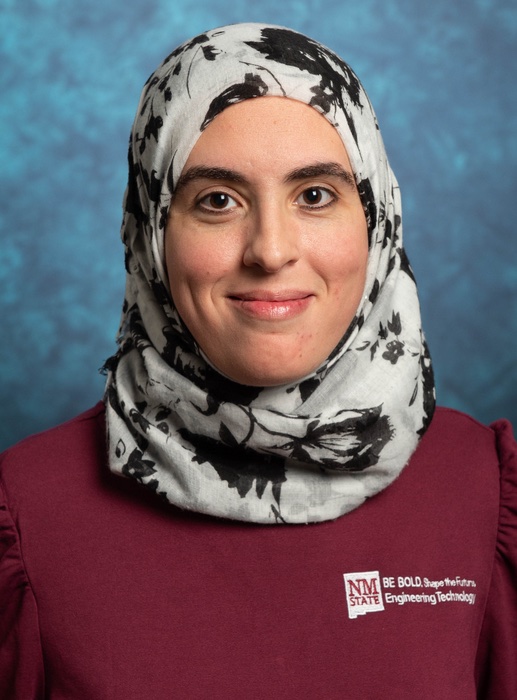 Samah Ben Ayed, College of Engineering
Mechanical Engineering Technology Associate Professor Samah Ben Ayed joined the NMSU faculty in 2015 after she earned her Ph.D. in engineering mechanics and conducted postdoctoral research at Virginia Tech.
"Being a professor at NMSU gives me an outstanding opportunity to work in a rich and diverse community," Ben Ayed said. "I enjoy having an excellent relationship with my students and colleagues in the College of Engineering. I feel delighted when I get the feedback from the students that we are changing their life, making them passionate about engineering fundamentals and applications and preparing them to be competitive in the job market."
Currently, Ben Ayed is investigating topics such as theoretical and practical techniques to reduce energy consumption in heating ventilation and air conditioning systems for open spaces using computational fluid dynamics and reduced-order modeling.
"The building sector consumes almost 40% of all energy produced in the United States," she said. "So even small energy saving contributions will be important towards decarbonizing the built environment."
Additionally, Ben Ayed is working on thermal design of efficient fixed-wing drone flight performance and integration and optimization of renewable energy technologies such as solar thermal devices and wind turbines at the residential scale. 
"With my students, I have been trying to work on improving energy efficiency in some campus buildings by analyzing the thermal consumption and giving recommendations for reducing energy use and consequently reducing the carbon footprint," she said.
---
March 23, 2022
Monique Matute-Chavarria, College of HEST
Monique Matute-Chavarria, an assistant professor of special education in the College of Health, Education and Social Transformation, has a unique approach to getting students with behavior disorders to express their feelings. 
Matute-Chavarria's Project CREE, or Culturally Relevant Expressive Environment, was funded by the college's Emerging Scholars program last year. Project CREE provides students with behavior disorders opportunities to express feelings by exploring how they identify with hip-hop, exploring self-expression, providing students with ways to express themselves appropriately, and examining how parents perceive hip-hop as a teaching practice in education. 
"As a Black mother and scholar, I want to pave the way for Black and brown children and their families in special education to have equitable experiences in the schooling system," she said. "I want to dismantle the racism, antiblackness and inequities Black and brown children experience in special education for their voices to be heard."
Matute-Chavarria's research focuses also include the intersections of race, family and disability, and how hip-hop pedagogy practices, such as DJ-ing, can be a tool for writing with Black students with and without disabilities. She centers her work on culturally sustaining practices in special education, equity and access for culturally and linguistically diverse students in special education and early childhood.
She has published a number of journal articles and wrote a chapter for the book, "The mixtape volume 1: Culturally sustaining practices within MTSS featuring the everlasting mission of student engagement."
---
Feb. 16, 2022

Kulbhushan Grover, College of ACES
Kulbhushan Grover is an associate professor of sustainable crop production in the College of Agricultural, Consumer and Environmental Sciences. He joined NMSU in 2009 after receiving a Ph.D. in agronomy from Pennsylvania State University and completing post-doc research at Cornell University.
Grover teaches courses in plant sciences and sustainable crop production. His teaching approach emphasizes experiential learning and organic agriculture.
Students in Grover's Principles of Crop Production course participate in a semester-long experiential learning project at the Fabían García Science Center. Students plant a series of cover crops and manage and study them over the semester.
"To prepare the agronomists of the future, faculty must teach skills that tackle complex situations, and experiential learning is one of the best ways to teach such skills," he said. 
Grover said the project is based on Kolb's model of experiential learning and has received recognition at the national level, including the Top Teaching Tip Award from the North American Colleges and Teachers of Agriculture. He has also received the NMSU Teaching Academy's Innovation Award. 
"What makes the experiential learning project novel is that it is not just a 'hands-on' activity, but also incorporates several mental processes to develop a deeper understanding of the concept. It embraces all the four components of Kolb's model of experiential learning, which is often missing in most hands-on activities offered in various courses," Grover said. "Additionally, several assessment tools were designed to evaluate the effectiveness of each step of the experiential learning model, which further added to uniqueness and strength of this project."
His research interests include investigating cover crops and crop rotations for improving soil quality in the desert southwest and testing alternative specialty crops suited for arid agriculture. 
He has served as a principal investigator or co-principal investigator on research projects funded by the United States Department of Agriculture's National Institute of Food and the New Mexico Department of Agriculture, among other agencies. His projects focus on sustainable practices, including demonstrating and evaluating cover crops and evaluating guar as an alternative crop for the semi-arid desert Southwest. 
In 2021, Grover was the lead principal investigator from NMSU who was part of a team of collaborators from New Mexico, Texas and Florida who received a $1 million grant to help train Hispanic students to conduct research in the agricultural sciences.
---
Jan. 26, 2022

Marlena Fraune, College of Arts and Sciences
Marlena Fraune joined New Mexico State University in August 2018 as an assistant professor of psychology in the College of Arts and Sciences. Her research focus is human-robot interaction.
In addition to teaching, Fraune spends much of her time meeting with graduate and undergraduate students about research and meets weekly with research project groups. During these meetings, the team brainstorms about next steps for research projects and solutions to any challenges. She often meets with national and international collaborators to advance research projects. Currently, she is collaborating with researchers at the United States Air Force Academy to determine how to improve use of semi-autonomous cars. She is also working with researchers from Germany to study ethics of robots becoming part of human teams. She funds her own research and manages funding from various grants to purchase needed equipment, like robots.
"Robots are becoming increasingly prevalent, in homes, schools and factories," said Fraune. "The goal is for robots to improve human lives. To that end, I study how robots can better collaborate with and support people. I love working with diverse perspectives of researchers around the world to find more ways that technology can improve people's lives."
Fraune has been teaching engineering psychology. "I facilitate students to partner with the Museum of Nature and Science," Fraune said. "Through this partnership, the students help museum staff improve aspects of their program. For example, one group helped create a system for museum staff and museum patrons to propose new educational programs."