NMSU ranks in top 10 percent for alumni economic earningsNMSU ranks in the top 10 percent for value-added mid-career salary in a new report from the Brookings Institute.
By Tiffany Acosta
575-646-3929
tfrank@nmsu.edu
May 15, 2015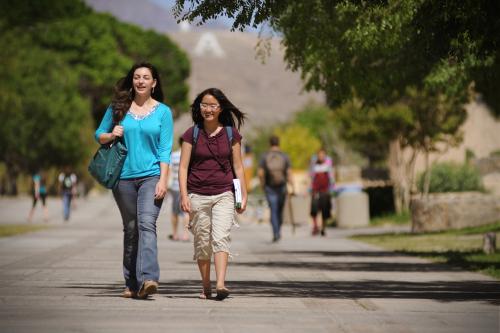 In a new report by the Brookings Institute, New Mexico State University was ranked in the top 10 percent for value-added mid-career salary.
In the recent report, "Beyond College Rankings: A Value-Added Approach to Assessing Two and Four-Year Schools," by Brookings Fellow Jonathan Rothwell and Senior Research Assistant Siddharth Kulkarni, NMSU ranked 89th of 863 institutions for value added mid-career earnings.
Value added is the difference between a college's predicted and actual student economic outcomes, as defined in the report.
"Value added is an important concept in higher education," NMSU President Garrey Carruthers said. "We have always believed that we were good at adding value for our students' educational experiences, which makes an impact on our students' economic outcomes. If we're not adding value for our students, we probably shouldn't be in this business."
NMSU has a value-added mid-career salary of 24.7 percent, which ranks first among the university's peer institutions. The actual mid-career salary is listed as $85,200, which ranks third among peer institutions. The figures listed are median total earnings for full-time workers with at least 10 years of experience.
Brookings used both government and private data sources for four-year and two-year institutions. The report analyzed three value-added economic success benchmarks: mid-career earnings, occupational earning power and loan repayment. The report found factors that strongly predict student economic outcomes are curriculum; market value of skills; degrees in science, technology, engineering and mathematics; graduation rate; and institutional aid.
For more information and to view the complete report visit http://www.brookings.edu/research/reports2/2015/04/29-beyond-college-rankings-rothwell-kulkarni.