UDA soccer program at NMSU to unveil new field at May 14 ribbon-cutting event
By Carlos Andres López
575-46-1955
carlopez@nmsu.edu
May 12, 2022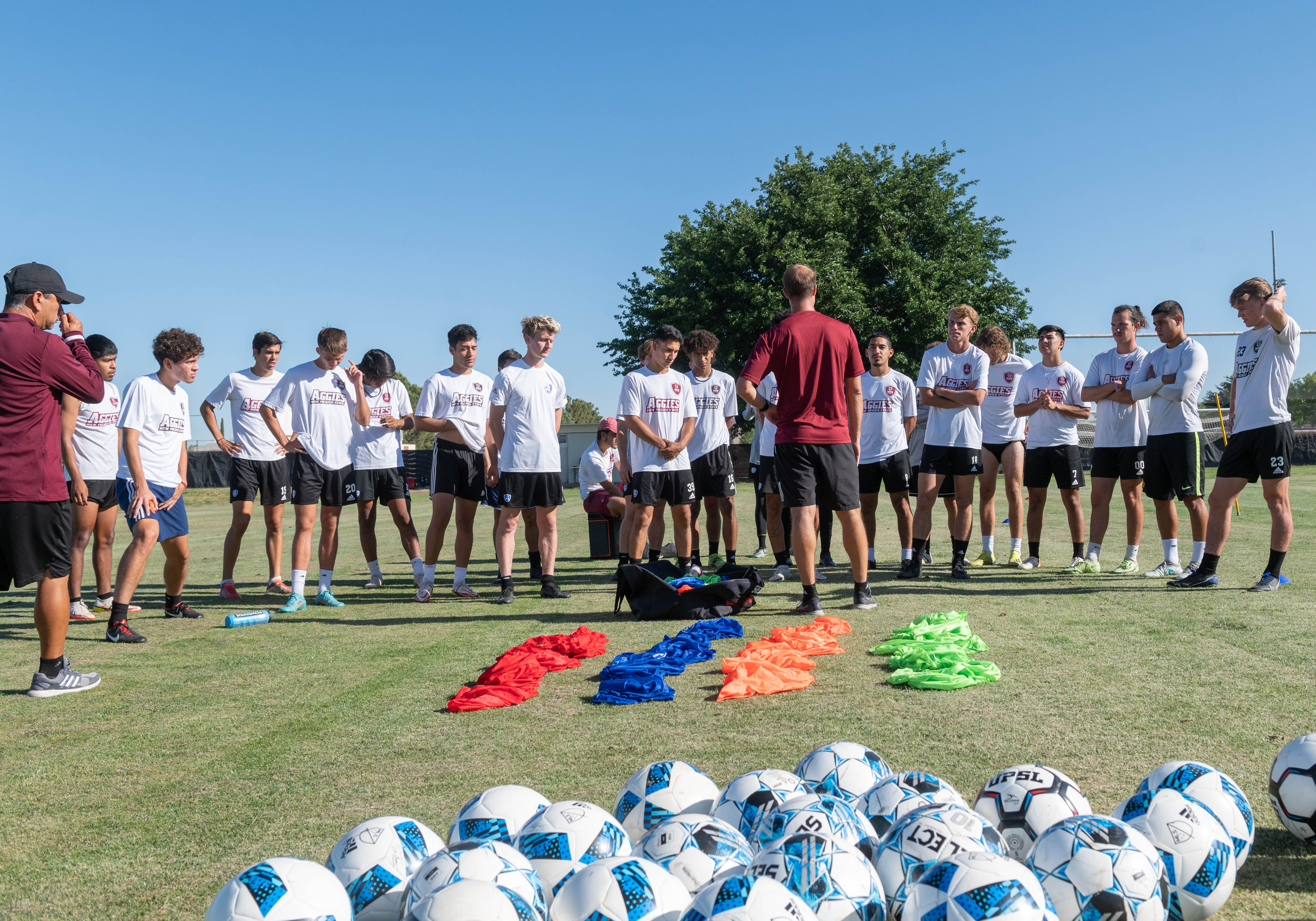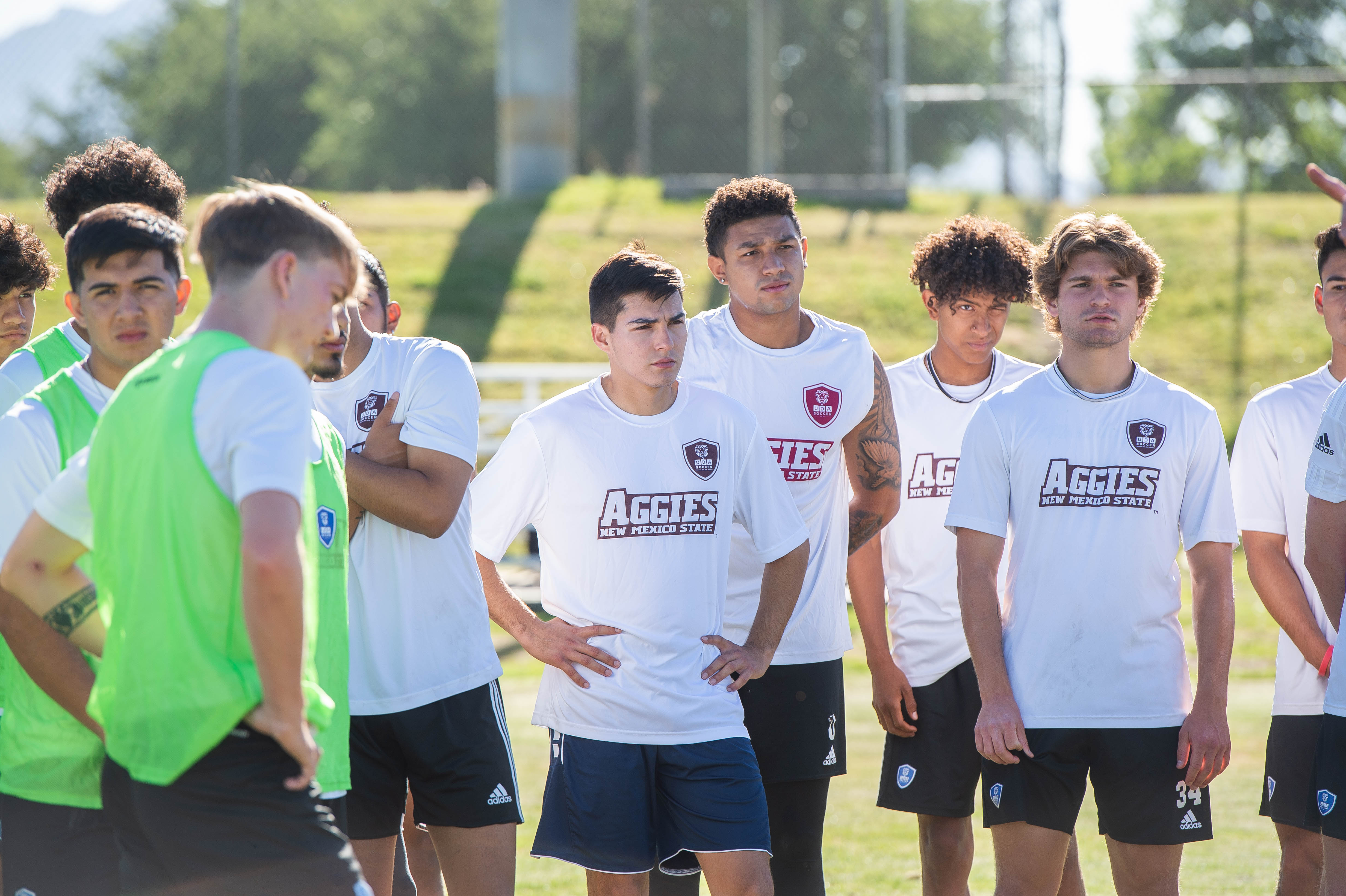 Three years after forming at New Mexico State University, the men's University Degrees Abroad soccer academy program finally has a dedicated practice and playing field on NMSU's Las Cruces campus – a major milestone for the players, coaches and support staff.
"To be honest, it feels like we're now legitimate collegiate soccer program," said Jeff Thompson, UDA program director.
To celebrate the new soccer pitch – located on the lower deck of NMSU's intramural fields – UDA will host a ribbon-cutting ceremony Saturday, May 14. The event, which is free and open to the public, will also include youth activities, food trucks, a 50-50 raffle and a match between UDA and El Paso's Sun City AFC.
"Having a pitch like this means everything to the team," UDA head coach Tahlon Drake said. "It's about pride, passion, playing for your heart, playing for your club – and everything comes down to the field."
The team worked with NMSU's Facilities and Services, an outside contractor and a turfgrass expert at NMSU to transform what was once an unremarkable open field into a pristine soccer pitch that closely meets professional standards.
The project started in November 2020 and included a complete overhaul of the irrigation system. When it came time to select and plant grass, the team sought help from Bernd Leinauer, Regents professor and Extension turfgrass specialist from NMSU's College of Agricultural, Consumer and Environmental Sciences.
"When problems started to pop up, Dr. Leinauer and others from turfgrass management were brought in to help solve the issues," Thompson said. "It took us almost three months to eradicate all of the weeds in the soil. After that, we stripped the area, added a nice layer of sand and put in the sod, which came from a local sod farm."
To complete the project, crews installed fencing around the perimeter of the field.
"It's more like a true football pitch – we're 75 yards wide, 110 yards long," Thompson said.
Before having its own field at NMSU, UDA practiced and played in several locations. Now that the team has a "home," Thompson hopes it'll be easier for the NMSU and Las Cruces communities to support the team.
"We want soccer fans from NMSU, Las Cruces and beyond to come out to our new pitch and experience what UDA is all about, starting with our ribbon-cutting event," he said.
The festivities will start at 2 p.m. with youth activities. The ribbon-cutting will take place at 3:30 p.m., and the match against Sun City AFC will kick off at 4 p.m.
Free parking will be available at Rentfrow Hall. Visitors should bring chairs and blankets.
"Las Cruces is a big soccer community, and now is the time to support our team," said Blake Ordell, UDA associate technical director and co-head coach.
NMSU and UDA teamed up in 2019 to create a developmental men's soccer program. The program – UDA's first in the U.S. – has 30 students, all of whom are seeking degrees at NMSU or Doña Ana Community College. 
UDA's mission is to provide student-athletes with an internationally recognized university degree, a developmental soccer experience and an opportunity for multiple pathways in their chosen career within a fully integrated university experience.
"The addition of men's club soccer at NMSU is a wonderful opportunity for students who wish to continue playing soccer while attending NMSU," said Renay Scott, vice president of Student Success.
UDA will continue to play matches through June. For a schedule, visit https://www.udaus.org.