NMSU names Andrew Bowen chief of police department
By Amanda Bradford
575-646-3223
ambradfo@nmsu.edu
May 26, 2022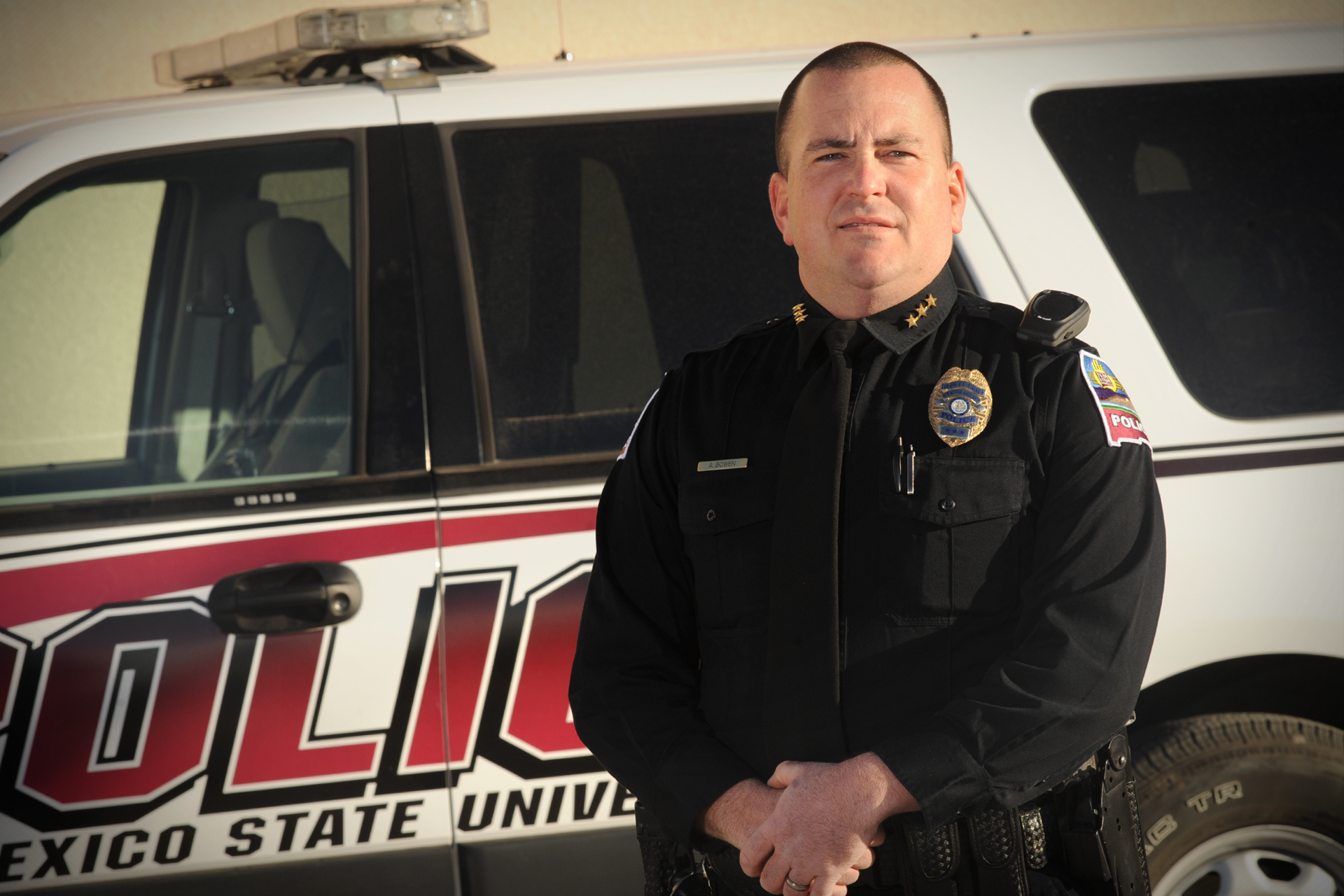 After a competitive national search process, New Mexico State University has hired Interim Police Chief Andrew Bowen as the department's permanent leader. Bowen has been serving as the department's interim chief since December 2020, following the retirement of former Chief of Police Stephen Lopez, who now serves as manager of the Office of Emergency Management for Doña Ana County. 
"Chief Bowen did a stellar job in his interim role, demonstrating not only his deep understanding of law enforcement, but also his interpersonal and communication skills, and dedication to our NMSU community," said Vice Chancellor and Chief Operating Officer Ruth Johnston in a memo to the campus community announcing the hire. "I have full confidence in his ability to lead the Police Department, and with the whole team, to support NMSU and help to achieve our goals."
Bowen has more than 20 years' experience with the NMSU Police Department. Prior to serving as interim chief, he served as deputy chief, managing and directing the Field Services Division. He developed and implemented the yearly budget, served as the primary public information officer for the department and provided press releases and information to the media and community. 
He also served with the NMSU Fire Department prior to becoming a police officer.
"It has been an honor to serve the NMSU community for the last 23 years, and I am so thankful to be given the opportunity to continue my service as the new chief of police," Bowen said. "I hope to be able to use the training, education and experiences that NMSU has provided me to continue to foster an environment of a caring community. 
"I am extremely fortunate to be able to work with a great team of individuals at the Police Department, and I embrace the chance we have to work together to provide a safe learning environment," he continued. "My goal is to continue to build a professional, service-oriented organization that reflects and respects the community that we serve." 
Bowen has a master of science degree in criminal justice and leadership management and is a graduate of the FBI National Academy, the FBI Command College and International Chiefs of Police Association Leadership in Police Organizations.
The NMSU Police Department is a full-service police agency with its own enhanced 911 emergency dispatch center, criminal investigations section and training staff. The NMSU Police Department is responsible for all criminal and traffic law enforcement on just over 180 square miles of land owned or controlled by the Board of Regents of NMSU, serving a peak daytime campus population of more than 32,000 and a residential population of around 6,000.  
The department employs about 22 certified police officers and seven certified emergency dispatchers. They are supported by three full-time civilian employees, 50 part-time security officers, and 25 part-time reserve officers and dispatchers.
For more information about the NMSU Police Department, visit police.nmsu.edu.