NMSU symposium to discuss COVID-19 impacts on border, Caribbean, Latin America
By Adriana M. Chávez
575-646-1957
adchavez@nmsu.edu
Apr 20, 2022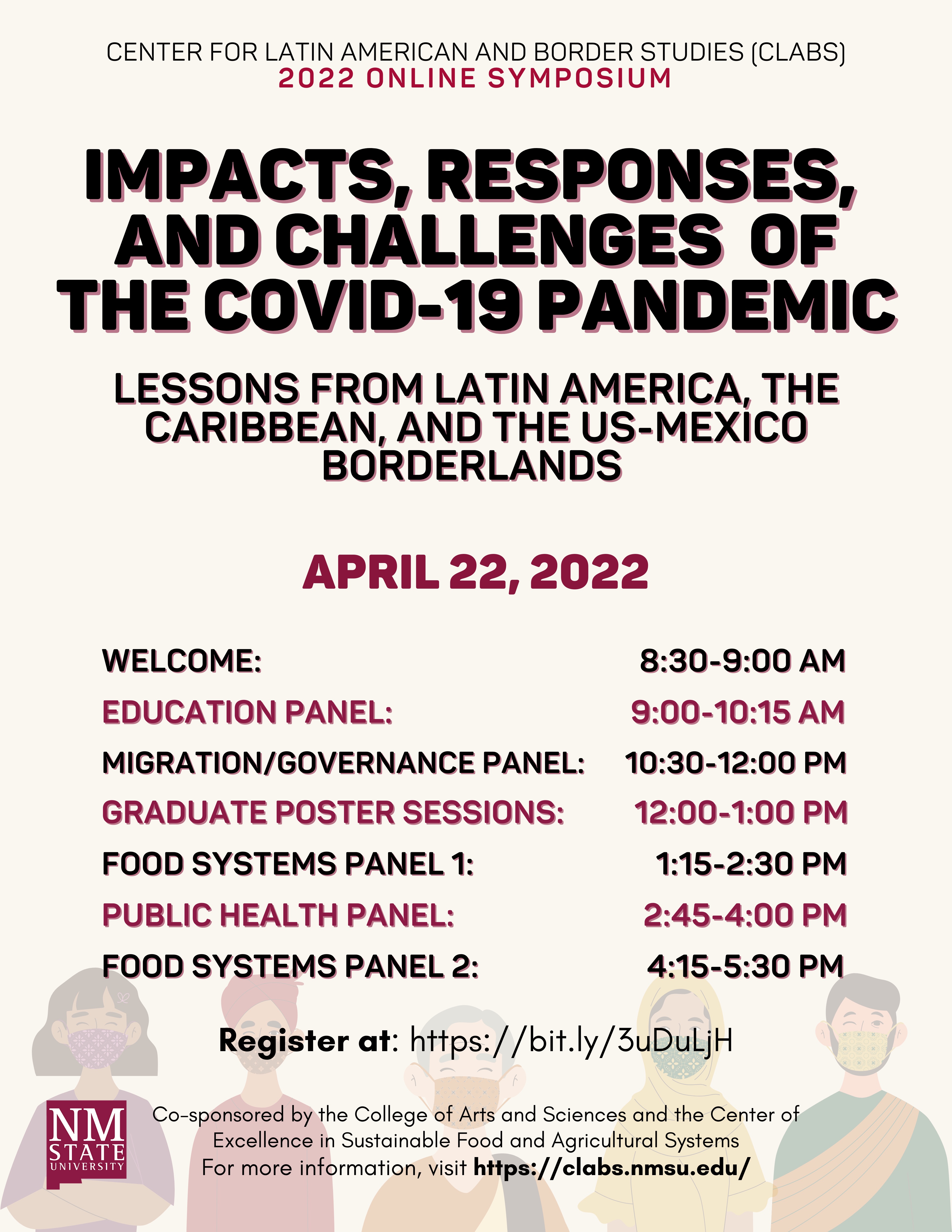 The COVID-19 pandemic has affected food, health, education and migration worldwide. The Center of Latin American and Border Studies at New Mexico State University will host a symposium Friday, April 22, to address those issues and how they've impacted the U.S./Mexico border, the Caribbean and Latin America. 
The symposium, titled "Impacts, Responses, and Challenges of the COVID-19 Pandemic: Lessons from Latin America, the Caribbean, and the U.S.-Mexico Borderlands," will feature scholars and graduate students presenting research highlighting those impacts, and how people have resisted, reorganized and adapted to new challenges. The symposium takes place from 8:30 a.m. to 5:30 p.m. via Zoom Events. It is free and open to the public.
Panelists include scholars from NMSU, Universidad de Ciencias y Artes de Chiapas in Mexico, the University of Colorado Boulder, University of San Diego, Universidad Nacional de Educación a Distancia Madrid in Spain, the University of Texas at El Paso, Universidad Autónoma de Ciudad Juárez, El Colegio de la Frontera Norte in Mexico, the University of Arizona and Universidad Nacional Autónoma de México. 
David G. Ortiz, Center for Latin American and Border Studies Faculty Fellow, said this is the center's first international symposium. The goal is to share research on how the pandemic has affected four key areas of concern in the Americas: food systems and access to food, public health, education, and transnational migration and governance. 
"Unique challenges facing the U.S.-Mexico borderlands include the impacts of the continued use of public health regulations to expel migrants and prevent them from presenting their cases for seeking asylum; the effects of COVID-19 on migrants held in U.S. Immigration and Customs Enforcement detention centers; impacts on food systems and affordable access to food; diverse responses to public health efforts in mitigation, treatment and vaccination; efforts of borderland educational systems and institutions to meet the needs of multicultural and binational student populations; and the wider social and economic impacts on the cross-border movement of people and goods between closely integrated communities, such as El Paso, Ciudad Juárez, southern New Mexico and San Diego-Tijuana," Ortiz said.
The U.S. has seen more than 880,000 deaths and more than 74 million people infected since the beginning of the pandemic. Latin America accounts for 28 percent of deaths worldwide, with Brazil, Mexico, Peru, Colombia and Argentina registering more than 100,000 deaths. Data shows that in Latin America and the Caribbean, the pandemic has disproportionately affected poor and vulnerable populations, especially Indigenous communities, Afro-descendent people, women, migrants and people held in crowded prisons.
The symposium is taking place on Zoom Events, a new virtual events platform. To register, visit https://nmsu.news/CLABS. To learn more about the center, visit https://clabs.nmsu.edu/.