NMSU Center for Community Analysis reaches new audience with radio partnership
By Carlos Andres López
575-646-1955
carlopez@nmsu.edu
Nov 04, 2021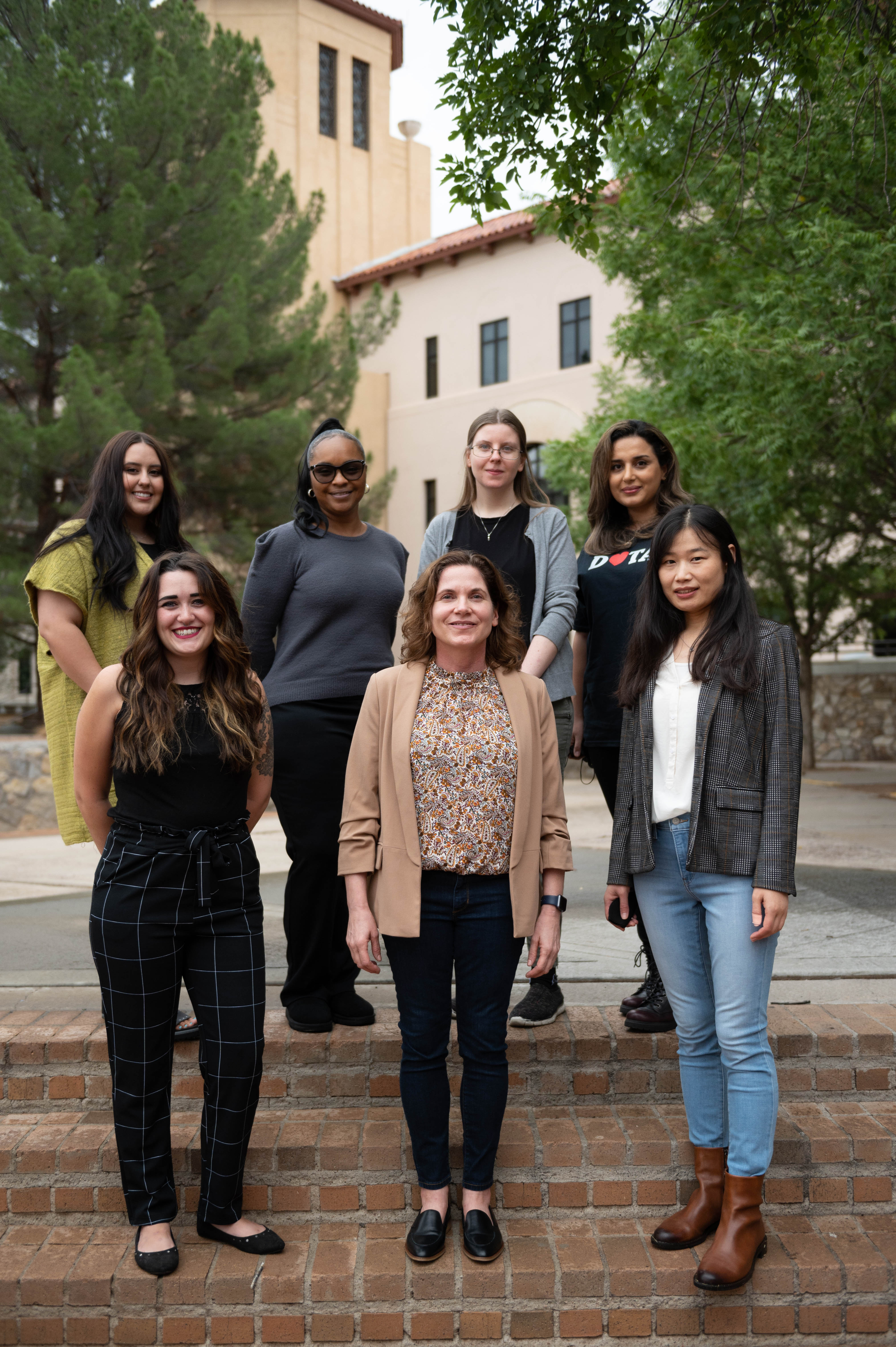 The only thing harder than crunching numbers is explaining the results to someone else. 
But that's what the data enthusiasts behind New Mexico State University's Center for Community Analysis do when they compile troves of raw data into detailed reports, maps, interactive dashboards, infographics and newsletters for broad audiences in New Mexico and beyond. 
Presenting complex data in understandable and useable formats is critical to the mission that drives CCA. Founded in 2016, CCA seeks to improve evidence-based decision-making across the borderland region by collecting, analyzing and disseminating hard-to-find data focused on early childhood, education, health and community well-being.
CCA recently took to the airwaves to add a new mode of presenting data as part of a new collaboration with an independent community radio station founded in 2017. Listeners who tune into Las Cruces Community Radio – KTAL 101.5 FM – can now hear a new CCA-produced segment, "Data Deets," twice a week between regular programming. 
"We thought this would be a great project for our students to be involved in because it gives them the chance to learn how to present data to a general audience in an easy-to-understand format," CCA manager Erica Surova said. "It also gives the public a chance to hear about our community partners' work and impact." 
CCA's first set of three "Data Deets" aired in September and centered on child care and family resources available in Doña Ana County. NMSU graduate student Amaris Wisener, who joined CCA in 2019 as a student research assistant, produced the two-minute segments, writing the scripts and recording the audio from her apartment.
Wisener said she used data from a recent assessment of Doña Ana County called the 100% Community Survey to create some of the segments – her first experience writing for a radio audience – and worked closely with another student research assistant, Leora Whiteaker.
The 2020 report, produced by CCA for the Doña Ana County Resilience Leaders, identifies levels of need and access to 10 basic surviving and thriving family services in the county, using an existing survey framework from the Anna, Age Eight Institute, also housed at NMSU.
"We focus a lot on early childhood education, and our goal was to make people aware of the services available to them," Wisener said. "That's where we started, and then we wanted to add some other fun facts to make it a little more interesting and less data-heavy."
Nan Rubin, vice president of the board overseeing KTAL, said she learned of CCA through Ngage New Mexico and was immediately impressed with the center's work and mission. After inviting Surova to be an on-air guest, Rubin soon broached the idea of a collaboration between KTAL and CCA. However, it wasn't until this year, with funding from the New Mexico News Initiative, that the collaboration became a reality – and "Data Deets" was born. 
"What we're trying to do with 'Data Deets' is make this data available to the people who are going to find it really useful in terms of finding resources and services for their own situations," Rubin said.
CCA plans to create eight radio segments this semester, Surova said.
Surova said CCA uses a team approach when preparing data to present to the public.
"It's a real team effort to take data that we've been collecting at the center and integrate it with information that's timely and happening right now like policy changes in early childhood education, affordable housing, the workforce, and so on," she said. 
For Wisener, presenting data on the radio has challenges, and the lack of visuals meant she had to get creative with her scripts. But she honed a more radio-friendly writing style, working with Rubin. Scripting and recording each roughly 120-second segment takes several hours, but it's a process that Wisener said she enjoys. 
"I like it because it's creative," she said. "It's been a lot of fun to do something new, where I get to record my voice, edit it and broadcast it on the radio." 
"Data Deets" is the first formal collaboration between KTAL and NMSU, Rubin said.
"We hope it's going to be a model, not just for CCA in terms of broadening out their information, but also for KTAL in terms of bringing new visibility to the issues around childhood poverty and some of the solutions that are available," Rubin said. "We feel, as a community radio station, that's a very important mission for us, and working with CCA is a great partnership."
"Data Deets" airs at 5:55 p.m. Mondays and 7:55 p.m. Thursdays. The scripts and recordings are also available at https://cca.nmsu.edu/data-deets/.
For more information about the Center for Community Analysis, visit https://cca.nmsu.edu, call 575-646-3352 or email surova@nmsu.edu.