November ballot includes funding for NMSU agricultural modernization
By Amanda Bradford
575-646-3223
ambradfo@nmsu.edu
Sep 23, 2020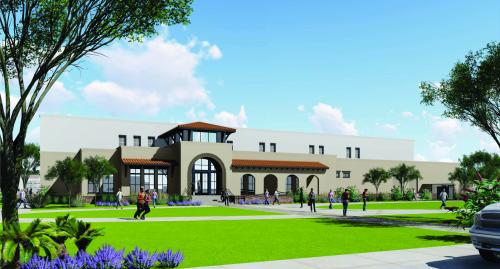 New Mexico voters will be asked on Nov. 3 to approve several general obligation bond questions, including two that will provide critical funding for the New Mexico State University system. There is no tax increase associated with approval of these bonds.
If approved by voters, GO Bond C will provide $30.46 million for construction, renovation and modernization projects across the NMSU system, including $18 million for biomedical and agricultural facilities at its Las Cruces campus. GO Bond B will provide $3 million statewide for university library resources, of which the NMSU system will receive a portion.
The first phase of NMSU's Agricultural Modernization and Educational Facilities project, which is currently in the design and planning process, is supported by $25 million in general obligation funding approved by voters in 2018. The New Mexico Legislature approved $18 million of the $25 million requested by NMSU in the 2020 bond issue for the project's second phase, which will focus on improved laboratory, research and classroom spaces for the College of Agriculture, Consumer and Environmental Sciences.
NMSU Architect Heather Watenpaugh said plans for the agriculture district at NMSU's Las Cruces campus include new facilities, renovations and demolition designed to provide premier agriculture education facilities for teaching and outreach, increase hands-on experiential learning, increase opportunities to partner with industry leaders, and support safety with facility design.
The ACES Student Learning and Livestock Outreach Center will provide a central location for both experiential and distance learning models, as instructors create innovative hybrid lessons in response to the COVID-19 pandemic. It will also offer a space for community youth events and Therapeutic Riding sessions, and will be a future home for statewide 4‐H and FFA conferences, when they can safely be held in person.
"These new and modernized facilities will provide a central location to teach and conduct cross-disciplinary biomedical research," said Rolando A. Flores, dean of the College of ACES. With the right tools and facilities, NMSU research teams can continue their work to help the world understand, prevent, and manage disease outbreaks. Building and updating these facilities supports NMSU's mission to serve the people of New Mexico through teaching, research and extension."
The College of ACES advances NMSU's mission by being an engine for the economic and community development of New Mexico. Agriculture and food processing industries generated nearly $11 billion and 51,000 jobs for the New Mexico economy, according to a recent study. Modernization and expansion of learning environments helps to create an agricultural workforce prepared to advance the industry and grow New Mexico's economy.
The last major facility added to the agriculture district at NMSU's Las Cruces campus was Skeen Hall, constructed in 1999 as the Center for Sustainable Development of Arid Lands. Much of the agriculture district, the campus livestock, education, and research center, consists of dilapidated and disused facilities whose conditions and use do not align with the needs of the College of ACES or the academic advancement trajectory of NMSU in general, Flores says.
NM GO Bond C includes $3 million for NMSU's statewide Agricultural Science Centers, which support fundamental and applied research under New Mexico's varied environmental conditions to meet the agricultural and natural resource management needs of communities in every part of the state. Without major repairs, significant building system improvements and site remediation, Watenpaugh says those facilities will struggle to continue serving the needs of New Mexico's diverse population.
The bond also includes $3 million for data center infrastructure upgrades in Milton Hall and improvements to the information technology system campus‐wide to replace outdated or deficient systems and create technology for today's learning environment. The project will include upgrades and replacement of data centers, computer systems and equipment, campus infrastructure and classroom technology.
Another $6.46 million will campus-wide infrastructure improvements, renovations and equipment at NMSU's community college campuses in Grants, Doña Ana County, Carlsbad and Alamogordo.
In total, the 2020 Capital Projects General Obligation Bond Act will issue just over $156 million in general obligation bonds for institutions of higher education, special schools and tribal schools in New Mexico. For more information, visit gobond.nmsu.edu.
Important Dates
Election Day: Nov. 3
Last day to register to vote: Oct. 6
Absentee voting: Oct. 6 to Nov. 3
Early in-person voting:
- Oct. 6 to 31, Doña Ana County Government Center
- Oct. 17 to 31, alternate voting locations
NMSU Community College Projects
- Doña Ana Community College creative campus media building and safety/security upgrades in Doña Ana County: $1.86 million
- Renovations to the Physical Plant building and mechanical ductwork for NMSU-Alamogordo campus in Otero County: $1.8 million
- Site, parking and infrastructure renovations at NMSU-Carlsbad campus in Eddy County: $1.5 million
- Renovations to Martinez Hall at NMSU-Grants campus in Cibola County: $1.3 million
Agricultural Science Center Needs* (Unranked)
Alcalde Sustainable Agriculture Science Center: The Alcalde Sustainable Agriculture Science Center needs repairs to its plumbing infrastructure, connectivity of community water to its temporary housing for graduate students and visiting scientists and repairing or replacing condemned adobe storage sheds.
Chihuahuan Desert Rangeland Research Center (College Ranch): The Chihuahuan Desert Rangeland Research Center serves New Mexico's livestock industries and natural resources management agencies by providing an outdoor laboratory for livestock grazing management and range management. The center needs to renovate the antiquated headquarters buildings (including asbestos abatement) and the headquarters corral.
Clayton Livestock Research Center: The Clayton Livestock Research Center conducts research to improve health of newly received beef cattle and performance of finishing beef cattle. The center needs to upgrade the plumbing and insulation in its cattle processing barn.
Clovis Agricultural Science Center: The Clovis Agricultural Science Center has a need for temporary living quarters for visiting scientists, along with upgrading the electrical wiring in the office building. In addition, the irrigation wells need repairs.
Corona Range and Livestock Research Center: The roofs of the Headquarters residence and the North Camp residence of the approximately 28,000-acres Corona Range and Livestock Research Center are very old and require replacement.
Fabian Garcia Research Center: The Fabian Garcia Research Center is an outdoor horticultural laboratory. The center needs to remodel the research greenhouses for plant breeding research.
Farmington Agricultural Science Center: Funds would be used to renovate the shop building at the Farmington Agricultural Science Center. This will require 180 square feet of asbestos abatement.
Leyendecker Plant Science Research Center: The Leyendecker Plant Science Research Center is an outdoor laboratory for agronomic research. The center needs to replace its irrigation infrastructure and add an additional irrigation well.
Los Lunas Agricultural Science Center: The Los Lunas Agricultural Science Center serves the greater Albuquerque area and the Middle Rio Grande Valley with urban horticulture, entomology, and wine grape programs. The Los Lunas Agricultural Science Center also cooperates with the co-located USDA NRCS Plant Materials Center to test plant varieties for reclamation and conservation issues. The center needs to renovate the greenhouse/headhouse/lab to be able to provide desk and lab space for research faculty.
Rex E. Kirksey Agricultural Science Center at Tucumcari: The center was founded in 1923. The funds will permit the center to renovate its aging and inadequate shop, lab, and office buildings.
*Individual needs will be prioritized and addressed as funding allows