Senior athletes to compete at NMSU for the 2020 New Mexico Senior Olympics Summer Games
By Faith Schifani
575-646-6233
schifani@nmsu.edu
Dec 05, 2019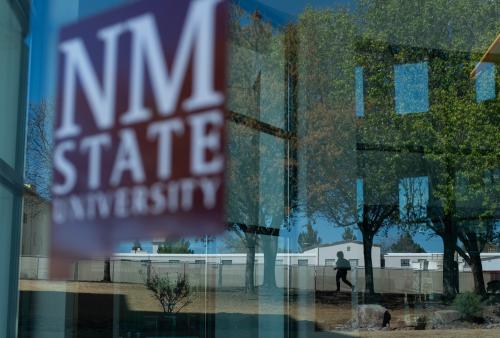 New Mexico State University and the city of Las Cruces expect to host more than 1,200 seniors for the 41st annual New Mexico Senior Olympics Summer Games June 10-13. Sport venues will be located around the NMSU campus and throughout the city of Las Cruces. The event will be the first in a three-year agreement. 
Senior athletes will have the opportunity to compete in 21 individual sports from archery, cycling, badminton, tennis, track to power walking, racewalking and many more.
The seniors training for the summer games are invited to participate in a sports and wellness day Jan. 16 at the NMSU Activity Center.
Doña Ana County is a top 10 retiree destination according to a 2019 issue of Where to Retire magazine. This means the population of eligible senior athletes has continued to increase since the last New Mexico summer games hosted in Las Cruces in 2012.
"For the next three summer games, the NMSU community can expect a whole lot of Aggie pride across campus," said Cosette Atherton, NMSU event coordinator. "We plan to welcome back many alumni and their families and take advantage of the captured audience by featuring throughout the events various affiliated NMSU departments and highlighting our beautiful campus and amenities."
Senior Olympic athletes who spent their careers as teachers will be honored during the games in the spirit of NMSU Leadership's Transforming Education in New Mexico Initiative.
"The partnership between NMSU and the city of Las Cruces to work together in hosting these games over the next three summers will contribute significantly toward our local economy, most especially our friends in the tourism and hospitality industry," said Nathan Ruger, NMSU conference sales manager.   
For more information about the New Mexico Senior Summer Olympic Games, contact the NMSO headquarters at 575-623-5777 or visit their website at www.nmseniorolympics.org.