NMSU to host UAS TAAC conference Dec. 10-12
By Faith Schifani
575-646-6233
schifani@nmsu.edu
Dec 05, 2019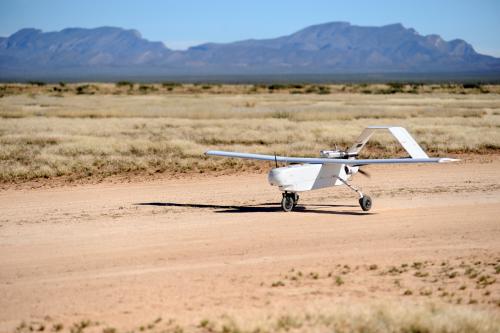 New Mexico State University will host the 21st annual Unmanned Systems Aircraft Technical Analysis and Applications Center conference Tuesday, Dec. 10 through Thursday, Dec. 12 in Corbett Center Student Union and the Physical Science Laboratory.
This conference originated over two decades ago in Las Cruces, and the prestigious event is returning to the NMSU campus.
"We are extremely excited to bring the conference back to NMSU and showcase our campus and the surrounding areas," said Eric Sanchez, PSL deputy director. "Additionally, we are working with the City of Las Cruces Economic Development Department and the Mesilla Valley Economic Development Alliance to share their vision for Las Cruces and the region with our guests during the conference."
The UAS TAAC conference has always succeeded in gathering UAS organizations and people that are shaping the future of UAS. The event will feature high caliber speakers and attendees from federal agencies, aviation user groups, as well as private industries and universities.
"This conference is quite significant to the industry as we bring experts from across many different fields to meet and discuss the challenges they are facing," said Sanchez. "Many of these challenges aren't unique to one field so the sharing of knowledge is essential. We have experts from industry, military, public safety, FAA and higher education just to name a few. Bringing these experts together and focus on the many aspects associated with Unmanned Aerial Systems is very powerful."