NMSU rodeo teams wrap up fall season, prepare for spring
By Faith Schifani
575-646-6233
schifani@nmsu.edu
Nov 19, 2019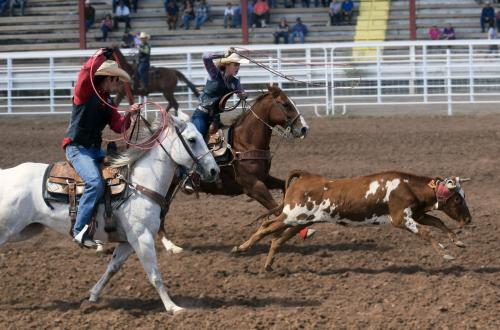 The New Mexico State University rodeo teams are now in their offseason after a great run in fall 2019. Currently, the women's team ranks first and the men's team is in second in the Grand Canyon region as they get ready for the spring. 
The teams hosted their home rodeo Sept. 26 at the Southern New Mexico State Fair. The women's team finished first, and the men's team finished second. A large crowd supported the program, and it was an overall huge success according to rodeo head coach Logan Corbett. The last rodeo of the fall at Mesa Lands Community College in Tucumcari, New Mexico, Oct. 11-12, resulted in the same finishes, the women's team won, and the men's team earned second.
For the men's team, sophomore Preston Ogle in the saddle bronc riding is ranked first in the region and is expected to continue to dominate in the spring. He is considered to be a national champion contender. Freshman Bo Tyler Vocu was impressive in the bull riding. He won the last two college rodeos and is leading the region.
"I think we saw a lot of freshmen step up to the plate and compete," said Corbett. "It's always tough to know how freshmen will compete because it is as such a step up from high school rodeo, but our freshmen showed up and did really well."
For the women's team, graduate student LeighAnn Scribner dominated. She ranks first in breakaway roping and second in goat tying. The two sisters who are constantly at the top of the leaderboard are sophomore Abbie Shofner and senior Bethanie Shofner. Both of them qualified for the College National Finals Rodeo last season in breakaway roping. They currently hold the second and third spot for breakaway roping in the region this year.  
The team has suffered several injuries this semester that have affected their rodeo outcomes. There was a broken arm, broken wrist, torn MCL and multiple student-athletes who sustained serious concussions and had to sit out practices and rodeos.
"It's just been a rough season for us as far as injuries go, but that's rodeo," said Corbett. "It's not if you get hurt, it's when and how bad."
In the spring, the teams hope to continue to do what they did this fall and maintain consistency. With six rodeos left, this year is far from over. Rodeo regular season competitions will begin again in March and finish by the end of April, which means two very busy months for the teams. 
"One thing I know, we'll be steadily working with our eyes on the prize, 2020 Men's and Women's National Champion Teams at the CNFR," said Corbett.
For more information on the NMSU rodeo team, contact Corbett at 575-646-3659 or lcorbett@nmsu.edu.