NMSU staff members received social mobility innovator award
By Tiffany Acosta
575-646-3929
tfrank@nmsu.edu
Oct 11, 2019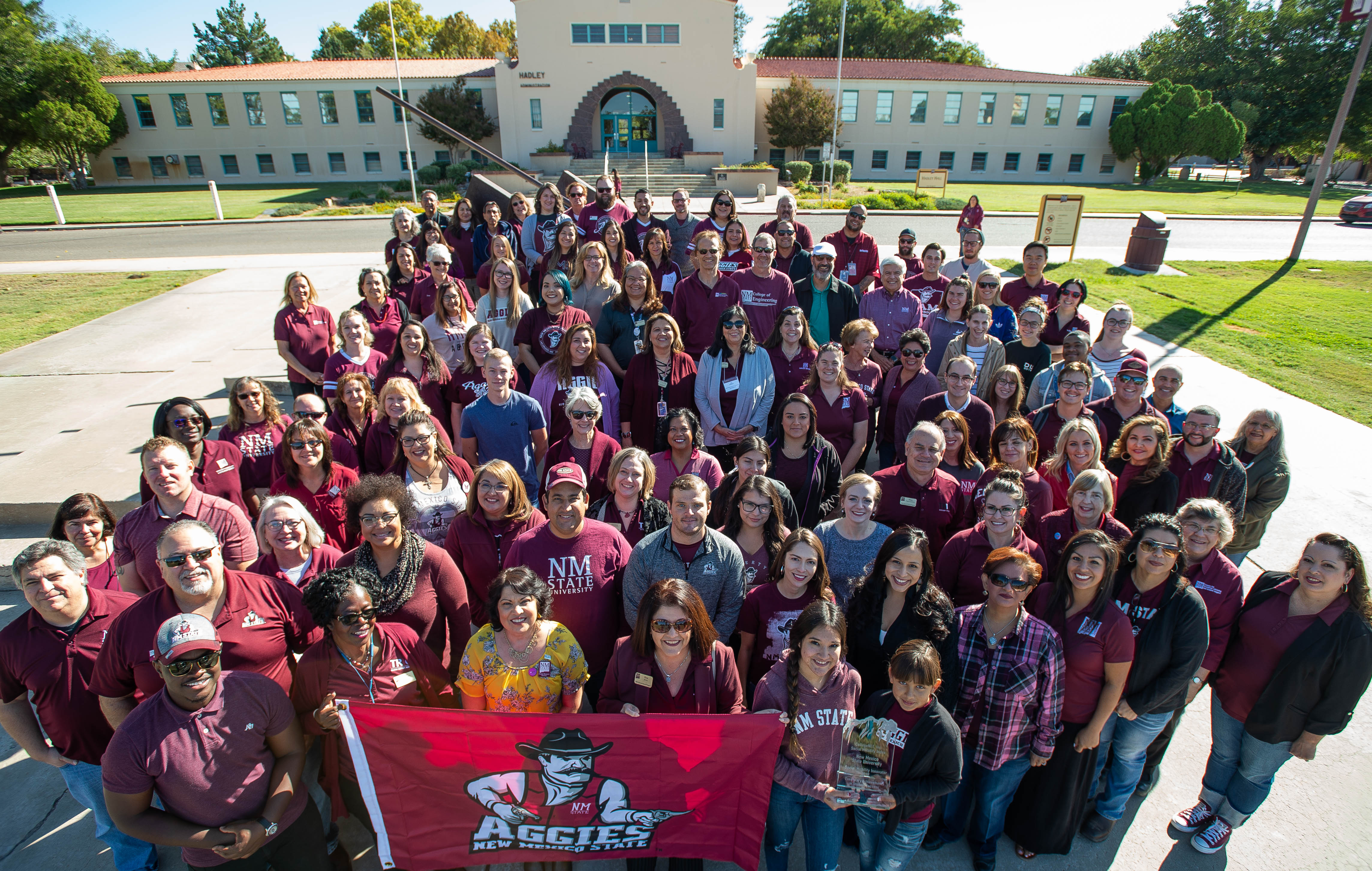 One of the goals of New Mexico State University's strategic plan, NMSU LEADS 2025, is to enhance students' social mobility, which is defined as improving economic status. Two NMSU staff members recently accepted a national award for the university's work in this effort. Tony Marin, assistant vice president of student engagement, and Dacia Sedillo, university registrar, accepted the 2019 Social Mobility Innovator award at CollegeNET's Social Mobility Summit in Portland, Oregon.
According to CollegeNET, the Social Mobility Index measures the extent to which a college or university educates more economically disadvantaged students, with family incomes below the national median, at lower tuition and graduates them into good paying jobs.
"NMSU is committed to serving students seeking higher education to improve their future earnings. Dr. Marin, Ms. Sedillo and so many others have helped NMSU improve our processes to ensure we better serve our students," said Renay Scott, vice president for student success.
The pair were among 10 student success professionals from six universities honored. Marin and Sedillo participated in roundtable discussions. Marin reinforced the importance of appreciating and serving first-generation students, and Sedillo discussed the vital institutional pride from recruiting and retaining first-generation students.
"We've always known the work we do here is important, but to have a measure established at a national level is validation of the work we do every day with our students," Sedillo said.
"New Mexico State is well poised to position ourselves as a leader of social mobility success.  Our students and graduates epitomize the true spirit of this award and the impacts that higher education has on improving the lives of our state, region and nation," Marin said.
NMSU will host a Social Mobility Summit April 7-8. Sedillo and Luis Vazquez, associate vice president for research and graduate studies, will be the co-chairs for the event.
"How do we continue to move our state forward in addressing many of the things the university wants to address?" Marin said. "We are probably one of the only institutions in the nation that has social mobility as a pillar of our strategic plan, and with the university's commitment to that comes a responsibility of making sure we are engaging folks from a national, regional, state and institutional level to see what we can do to make New Mexico a better place for its citizens."
NMSU has a vast network of social mobility initiatives focused on its students and the community. A few examples of social mobility initiatives, outside the daily instruction and student service, include the Hispanic-Serving Institution STEM Resource Hub, TRIO programs, Generaciones and the Young Achievers Forum.
The Resource Hub was funded through a $2.6 million, five-year National Science Foundation grant and is a collaboration with Doña Ana Community College and California State University-Northridge. The goal is to empower student success by helping create strategies and finding resources to improve the quality and outcomes of undergraduate STEM education. NMSU Regents Professor Elba Serrano is the lead principal investigator for NMSU.
Upward Bound, Student Support Services and Student Support Services STEM-H are federally funded TRIO programs.Upward Bound serves high school students from low-income families and from families in which neither parent holds a bachelor's degree. The goal of Upward Bound is to increase the rate at which participants complete secondary education and enroll in and graduate from institutions of postsecondary education.
Since 1989, NMSU has sponsored the Upward Bound programs in the Gadsden Independent School District and Las Cruces Public Schools, and programs were established in 2017 at Alamogordo High School and Hatch Valley High School. The Upward Bound Programs are administered by Toni Dixon, Rosa De La Torre-Burmeister and Lourdes Ambriz. The Student Support Services and Student Support Services STEM-H programs serve NMSU students who are low-income, first-generation and students who demonstrate an academic need or are majoring in a STEM-H academic program. The goals of both programs are to foster the success of participants to persist to graduation. The programs are administered by Carol Hicks and Jesslyn Ratliff.    
Generaciones is a mother-daughter program for fifth-grade girls and their mothers. The program is based on research that states that by the fifth grade, it is important that girls have a close, trusting relationship with her mother, personal goals and self-esteem. If these three factors are not in place by the fifth grade, there is an increased chance that the girl will not graduate from high school and continue her education. Chances also increase that the girl will engage in self-destructive behavior that may endanger her future success. The program is administered by Laura Gutierrez-Spencer, director of Chicano Programs.
The Young Achievers Forum, which will be held at NMSU for the fourth year Feb. 29, brings approximately 500 sixth-grade students and their families from across southern New Mexico to campus. The goal is to encourage students to pursue a college education after high school. For many students, it's their first visit to a college campus, and the majority will be the first in their families to pursue higher education.