NMSU Art Department's annual jewelry sale set for Monday
By Faith Schifani
575-646-6233
schifani@nmsu.edu
Oct 24, 2019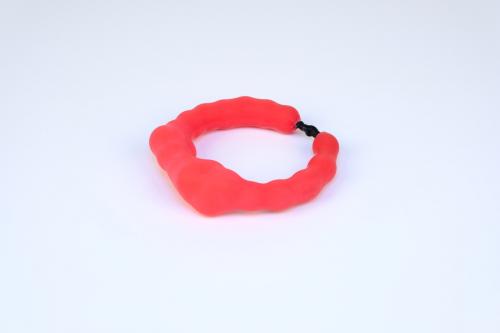 New Mexico State University Art Department students are preparing to host their 37th annual jewelry sale from 7:30 a.m. to 7 p.m. Monday, Oct. 28 in the Barnes & Noble coffee shop, 1400 E. University Ave.
The sale is an opportunity for students to fundraise for their school expenses as well as help support the department. It will feature unique, one-of-a-kind, handmade jewelry created by students in the department's jewelry and metalsmithing program. Each student creates unique pieces from scratch and is responsible for packaging and pricing.
This semester, the program's focus has been color on metals. The subject will be highly reflected throughout the pieces showcased at the sale. Shoppers can expect to see lots of color, enamel and mix media works.
The jewelry pieces will range from $10 to $150 and are inspected for high quality. Each item will include the contact information of the student who created it, giving customers the opportunity to commission them after the sale.
The students are taught jewelry and metalsmithing from Art Assistant Professor Motoko Furuhashi. She is an internationally-renowned artist whose work has been exhibited at the Museum of Contemporary Art Chicago, the Houston Center for Contemporary Craft, the Oakland Museum of California, Joya Barcelona Contemporary Art Jewelry, Spain, Allinges, Lille, France and Beijing Fashion Institute of Technology, Beijing, China.
This is the first year that art classes are being held at the new Devasthali Hall, but there isn't access to the entire studio yet. It has been a challenge for the students who are working flexibly to create the best quality jewelry.
"We are still short of funding new equipment," said Furuhashi. "Hopefully this year's jewelry sale can help to support a complete set up of the new studio."
Furuhashi extends a warm invitation for people to come support the NMSU Jewelry and Metalsmithing program and to find amazing jewelry for friends, family and themselves.
For more information about the event, contact Furuhashi at 575-646-1238 or motoko@nmsu.edu.