NMSU Extension proud of successful community garden in Edgewood
By Jane Moorman
505-249-0527
jmoorman@nmsu.edu
Oct 01, 2019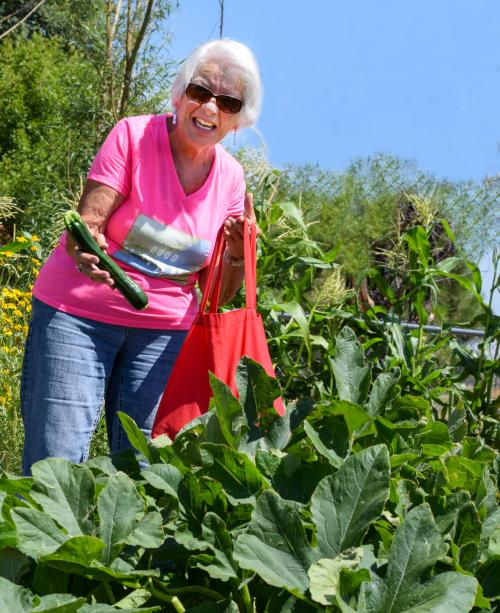 EDGEWOOD – Establishing community gardens can be difficult especially in population sparse rural areas.
One exception this summer has been the garden at the Santa Fe County Senior Center in Edgewood. The continued effort to have a garden at the center has sprouted enthusiasm as well as produce to share with others.
"When we first started it just looked desolate and I didn't think it would work," said Evelyn McGarry, the community garden administrator. "But, people have come and dedicated themselves to gardening and it is beautiful, what they have done and what they have grown."
Twelve community members planted a variety of vegetables in their designated rows, and volunteered their time to care for several rows designated for production of produce for senior citizens attending the center's programs.
"I've seen a good selection of things growing. I think the majority have gotten a good crop of their different vegetables," McGarry said. "The senior citizen center rows have been getting quite a bit of produce for people to take home."
Two New Mexico State University College of Agricultural, Consumer and Environmental Sciences programs collaborated with Santa Fe County Senior Center and Partnership for a Healthy Torrance Community to help guide the community members in the revitalizing of the garden.
"I am so grateful for how many people have been involved here," said Sally Cassady, who is with Ideas for Cooking and Nutrition, a program administered by NMSU's Cooperative Extension Service.
In her role as food system specialist, Cassady is working statewide to improve access to fresh fruit and vegetables for those with limited income. Part of this work involves partnering with local organizations to establish community gardens.
"I believe the Edgewood garden has been successful due to the high interest and involvement of so many community members," Cassady said. "The community has been a part of the garden development process from the beginning, so this garden truly is theirs. NMSU is just here to provide support as needed."
Before the planning of how the garden would be organized, Tom Dominguez, NMSU Cooperative Extension agricultural agent for Santa Fe County, held six workshops on gardening.
From those workshops, the enthusiasm for the garden grew.
"I got involved because of the workshops," McGarry said. "I think those classes helped us be successful."
Fred Bachicha grew up gardening with his parents on their ranch and farm. While he didn't attend the workshops he has learned several gardening tips from Dominguez as problems have arisen.
"This year we had challenges with squirrels and rabbits, but that's just nature and you deal with it," Bachicha said. "I learned from Tom to cover my plants when they were just sprouts, to protect them from the rabbits eating them. The plants I covered did better than others."
Dominguez makes weekly visits to the garden to meet garden participants regarding issues and recommendation.
"I'm able to answer any question they have and help them find solutions to issues, he said. "We have all learned from each other."
Dominguez is impressed with the many different methods of gardening people have brought with them to the garden.
"Fred has had better success in his area because he made pits in his row to catch and hold the water. I will be telling other people about this method that allow the water to seep into the ground."
Dominguez and Cassady also meet with the gardeners once a month to facilitate the planning for future plantings, including using a hoop house to raise leafy greens this winter. NMSU's Extension agricultural agent Del Jimenez led the workshop where the gardeners built the hoop house.
Edgewood Town Councilor Linda Holle attends the monthly meetings so she can share information about the garden at town council meetings and with flyers at the town hall and library.
"The garden is a nice resource for our community," Holle said. "They have a devoted group working in the garden. Hopefully, others will get take advantage of the garden to raise produce for their families."
Bachicha is encouraging other people to get involved in the garden.
"You get to see the plants growing and you mingle with other people that have the same interest that you do," he said. "It's a lot of fun, I enjoy it."