NMSU rodeo season opener scheduled for Saturday in Arizona
By Faith Schifani
575-646-6233
schifani@nmsu.edu
Sep 11, 2019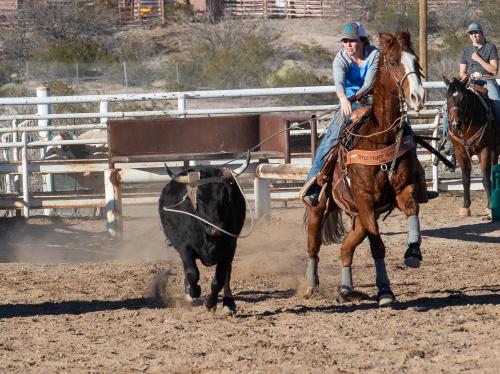 The New Mexico State University rodeo team is back in action for fall 2019. The season opener will take place Saturday, Sept. 14, at Dine College in Tsaile, Arizona.
Both the men and women's teams competed at the College National Finals Rodeo in June. This season, 10 of the 12 individuals who competed in Casper, Wyoming, will return to the team. Graduate student Dylan Riggins completed his final season with the team this summer, and junior Trevor Scott is injured.
Head coach Logan Corbett is confident in his students' abilities, especially with the women having placed seventh in the nation at the CNFR. Going into this year, there are 53 students on the roster including several freshmen.
"We've got some of the most talented kids, college students, student athletes in the nation," Corbett said. "Not just in the region, in the nation. Where we have struggled in the past is consistency."
For the women, graduate student LeighAnn Scribner is one to watch. Freshman Tierney Washburn competed in the National High School Rodeo and also has been showing great promise at pre-season practices.
For the men, freshmen walk-ons Steven Sanchez, Alan Melendez and Jonathan Carrizal will be ones to keep an eye on in roping. From Canada, freshmen Zane Tully and Colt Kornfeld are predicted to have great runs as well.
After the fall opener the team is scheduled to compete Sept. 26 at the Southern New Mexico State Fair in Las Cruces, Sept. 27-28 at Cochise College in Douglas, Arizona, and Oct. 11-12 at Mesa Lands Community College in Tucumcari, New Mexico.
For more information on the NMSU rodeo team, contact Corbett at 575-646-3659 or lcorbett@nmsu.edu.