KRWG's Zeitlin recognized by National Federation of Press Women
By Faith Schifani
575-646-6233
schifani@nmsu.edu
Aug 06, 2019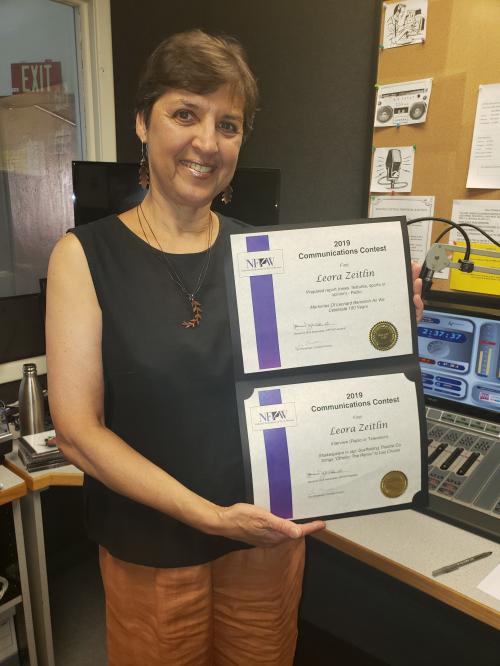 New Mexico State University's Leora Zeitlin has been recognized with two first-place awards from the National Federation of Press Women for her work with KRWG Public Media.
Zeitlin hosts "Intermezzo," a KRWG classical music program, from 2 p.m. to 4 p.m. Thursdays and Fridays. Her work has been recognized at the state and national level in previous years, but this is her first time receiving two first-place recognitions at once.
"It's always thrilling to have one's work recognized and awarded," she said.
"It's always very gratifying to have a member of our staff be recognized by their peers for their excellent work," said Adrian Velarde, KRWG General Manager. "This award demonstrates the high level of professionalism that Leora brings to NMSU and KRWG."
Zeitlin has been passionate about music from a young age, inspiring her most recent award-winning pieces.
The first is a heartfelt tribute to legendary composer Leonard Bernstein. Zeitlin grew up in Manhattan in the 1960s and as the daughter of concert violinist Zvi Zeitlin, she attended many of the Young People's Concerts at the New York Philharmonic, where Bernstein was the conductor. Her parents were close friends with him and she fondly recalls how he would kiss her hand as a chivalrous greeting backstage after such events.
August 2018 marked the centennial of Bernstein's birth. This resulted in many concerts as well as stories and tributes released from around the world honoring his legacy.   
"I asked our news director Anthony Moreno if I could put together my own piece, so we could have a local angle on this international milestone in music," Zeitlin said. "He was very encouraging and gave me some editorial suggestions, and that's the piece that won one of the prizes."
Zeitlin also regularly interviews musicians and performers on "Intermezzo." Her second piece is about Scaffolding Theatre Company's production of "Othello: The Remix," a rap adaptation of the Shakespeare play. In the segment she speaks with NMSU's Julian Alexander and Josh Horton, two of the stars, as well as Megan McQueen, Scaffolding's co-director and NMSU theater department associate professor.
"It started out as a regular interview that we all seemed to be enjoying, and then when I asked Josh and Julian to share a few lines of rap with the listeners, the energy in the room became electric," Zeitlin said. "They immediately were in character, and their rapping was incredible."
For more information about KRWG Public Media or to view Zeitlin's pieces, visit https://www.krwg.org.