Campers introduced to the business side of ranching at New Mexico Youth Ranch Management Camp
By Jane Moorman
505-249-0527
jmoorman@nmsu.edu
Jul 05, 2019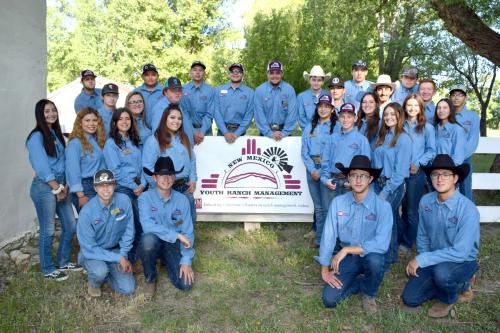 CIMARRON - The New Mexico Youth Ranch Management Camp was an eye-opening experience for the 29 youth attending the 2019 camp.
During the five-day camp at CS Cattle Company's 130,000-acre ranch at the foot of the Sangre de Cristo mountain range near Cimarron, New Mexico, the youth were introduced to the many aspects of running a ranch, from financial statements and marketing strategies to producing quality beef and managing natural resources and wildlife.
"We are proud to offer this one-of-a-kind program for the future cattle producers of our state," said Jon Boren, New Mexico State University College of Agricultural, Consumer and Environmental Sciences' associate dean and director of the Cooperative Extension Service. "The collaboration between our Extension specialists, county Extension agents and members of the ranching industry has provided an opportunity for the youth to learn about the many aspects of ranching."
College-level, hands-on curriculum provided the campers with information about how to develop a ranch management plan for a scenario similar to the host ranch.
"What we are finding from the more than 180 youths who have participated in past ranch camps is that they have gained a greater appreciation of the science and opportunities in agriculture," Boren said. "It is also a win-win for our aging agricultural industry with more young people having an interest in going into this type of work."
Attending this year's camp were:
- Catron County: Jake Jump
- Colfax County: Zoe Salazar
- Curry County: Layton Allen
- De Baca County: Arturo Ramirez and Felipe Ramirez
- Grant County: Randi White and Justin Billings
- Dona Ana County: Lane Hauser, Marshall Hite, Grady Hodnett and James Robinson
- McKinley County: Kyle Yazzie
- Mora County: Daniel Sanchez
- Otero County: Alejandro Cardiel
- Rio Arriba County: Andres Chacon, Hallie Vigil
- Sandoval County: Malia Wilson
- Sierra County: James Pedroncelli
- Taos County: Cameron Gonzales, Emily Cordova, Elian Galindo, Odalys Galindo, Sarah Randall and Maria Segura
- Valencia County: Rhett McCarty and Mateo Olivas
- Downs, Illinois: Brock Fitzgerald
- Lexington Park, Maryland: Georgina Melendez and Sofia Reina
On the final day of camp, the five teams presented their ranch management plans before three judges representing the ranching profession.
The 2019 winning team included Andrea Chacon, Emily Cordova, Elian Galindo, Grady Hodnett, Rhett McCarty and Sofia Reina. They will receive champion jackets during the Joint Stockman's Convention in December in Albuquerque.
The runner-up team consisted of Odalys Galindo, Zoe Salazar, Lane Hauser, James Pedroncelli, Felipe Ramirez and Hallie Vigil.
A "Top Hand" was selected each day by the instructors for showing exceptional interest in the topics. Recipients were Justin Billings for Beef Day, Emily Cordova for Marketing Day, Cameron Gonzales for Wildlife Day, and Jake Jump for Natural Resource Day.
Receiving "Top Hand" runner up honors were Brock Fitzgerald, Grady Hodnett, Mateo Olivas, Arturo Ramirez, Felipe Ramirez, and Malia Wilson.
Learn more about the camp at https://nmyrm.nmsu.edu.