NMSU women's rodeo team places seventh at college finals
By Faith Schifani
575-646-6233
schifani@nmsu.edu
Jun 19, 2019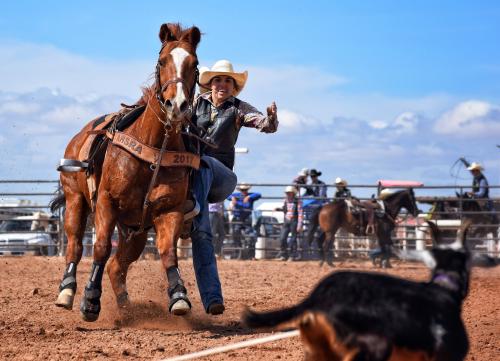 The 12 students from the New Mexico State University rodeo team who qualified for nationals have returned after a week of competition at the College National Finals Rodeo in Casper, Wyoming.
The women's team did exceptionally well, placing seventh overall in the nation. This is the first time NMSU has had a top 10 ranking women's team since 2009.
Freshman Jayde Wamal had three rounds of impressive runs in barrel racing, earning her a spot in the championship round. She won the final and finished fifth in the nation. In the same category, freshman Amy Bowditch also placed high at No. 16.  Freshmen Kaitlyn Harwell and Abbie Shofner also earned spots in the top 20 for breakaway roping.
For the men's team, graduate student Dylan Riggins qualified for the championship round in bareback riding and completed his college career ranked 12th in the nation. Sophomore Justin Neil ranked 16th in the nation for bull riding and was only a few points away from qualifying for the championship round.
There will be a two-hour delayed broadcast of the CNFR airing on ESPN3 at 5 p.m. Wednesday, Aug. 14.
"I'm happy with how this season went, not content, but I'm happy," said rodeo head coach Logan Corbett. "We had a lot of kids rise up towards the end of the season and qualify for the college finals and for a lot of them it was their first time there."
Corbett says his number one goal for next season is to learn from the experiences of this year and continue to equip the men and women's teams to go compete in a manner that would lead to winning the region along with national titles next year.
For more information on the NMSU rodeo team, contact Corbett at 575-646-3659 or lcorbett@nmsu.edu.