NMSU women's rodeo team takes first at home eventNMSU women's rodeo team earns top honors at home event.
By Faith Schifani
575-646-6233
schifani@nmsu.edu
Apr 03, 2019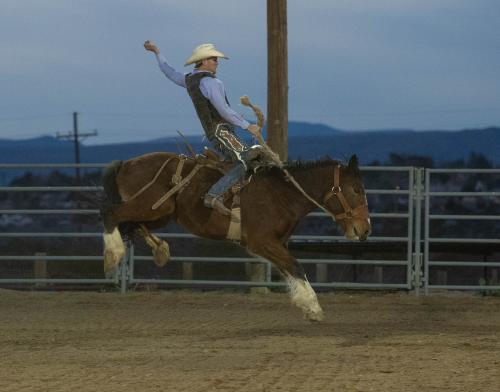 The New Mexico State University rodeo team competed in its regional home rodeo event where the women's team took first place overall, March 29-31, in Mesquite, New Mexico.
The women's team had many individuals who contributed to its big win. Freshmen Payton McKinley and Lyndsey Orris split the win in goat tying. Freshman Jayde Wamel placed first in barrel racing, and junior Bethanie Shofner won the breakaway roping.

For the men's team, graduate student Dylan Riggins placed first in bareback riding and continues to be ranked in the top 10 of the nation. Junior Nick Clark won the saddle bronc riding event and it was his first-ever qualified ride, which requires a ride of eight seconds. 

"Thank you to everyone who came out and had supported NMSU rodeo either through their presence at the rodeo or financially through donations," said rodeo head coach Logan Corbett. "Special shout out to ASNMSU for their generous contributions that helped put this rodeo on. We couldn't do what we do without the amazing community of NMSU rodeo supporters." 

The team will compete in its final rodeo of the spring April 19-20 in Socorro, New Mexico. This will determine the final standings in the region, and if NMSU will qualify to take a team to the college finals in Casper, Wyoming this summer. 

For more information on the NMSU rodeo team, contact Corbett at 575-646-3659 or lcorbett@nmsu.edu.