NMSU to host public health and policy conference April 12NMSU to host public health and policy conference April 12.
By Carlos Andres Lopez
575-646-1955
carlopez@nmsu.edu
Apr 11, 2019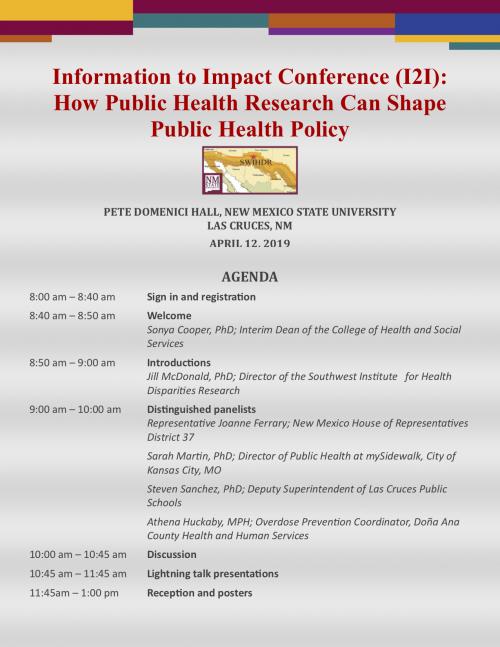 The Southwest Institute for Health Disparities Research, housed in the College of Health and Social Services at New Mexico State University, will host a public health and policy conference Friday, April 12, at the Las Cruces campus.
The conference, "Information to Impact (I2I): How Public Health Research Can Shape Public Health Policy," will feature a panel of distinguished speakers with different perspectives who will discuss how students can make their research useful to program and policy decision-makers, said Jill McDonald, public health sciences professor and director of the Southwest Institute for Health Disparities Research.
The conference also will feature oral and poster presentations from undergraduate and graduate students.
"Conference attendees will see examples of student work that can help shape governmental and institutional policies related to current community health issues and join the conversation," McDonald said
The conference, which is free and open to the public, will get underway with registration at 8 a.m. in the atrium of Pete Domenici Hall. Program events start at 8:30 a.m. in the Yates Theater.
The panel of speakers will begin their talks starting at 9 a.m., followed by a round-table discussion from 10-10:45 a.m.
The panelists will include: New Mexico House Rep. Joanne Ferrary, of Las Cruces, who represents District 37; Sarah Martin, director of public health at mySidewalk, a public health tech company based in Kansas City, Missouri; Steven Sanchez, deputy superintendent for the Las Cruces Public Schools; and Athena Huckaby, overdose prevention coordinator for the Doña Ana County Health and Human Services Department.
Following the panel discussion, 14 students will give oral research and poster presentations. Their topics will include: hospital readmission after heart failure; physical activity and stress reduction; effects of immigration policy on service utilization; HIV in the border region; risk of prenatal lead exposure; substance abuse; and others.
A reception will begin at 11:45 a.m. The conference concludes at 1 p.m.
For more information, or to pre-register, visit https://swihdr.nmsu.edu.