NMSU students to present thesis art projects at University Art GalleryThesis projects to be presented at University Art Gallery.
By Jasmine Woodul
575-646-2545
artglry@nmsu.edu
Apr 15, 2019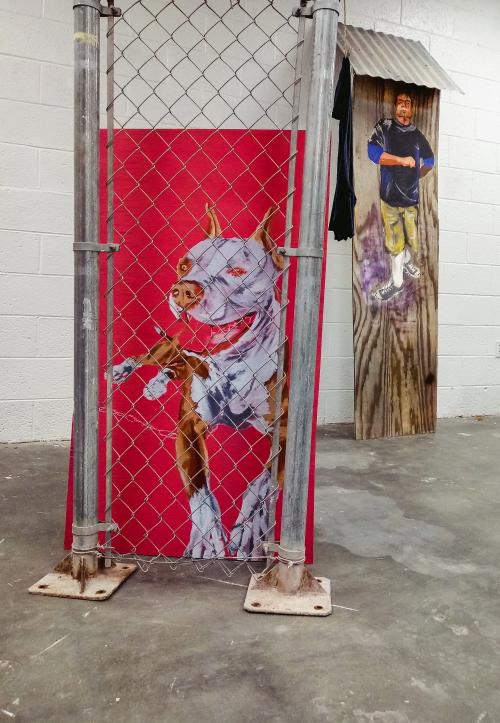 The University Art Gallery will present two new exhibitions: "dis-continuum: 2019 MFA Thesis Exhibition," featuring the work of Master of Fine Art candidates Cleo Arevalo and Fernando Enriquez; and "Reveries: 2019 BFA Thesis Exhibition," featuring work by Bachelor of Fine Arts Candidates Debbie Jo Baxter, Angelica Jones, Bernadette Larimer, Raquel Madrigal, Saul Ramirez and Carissa Staples.
Both exhibitions open during a collaborative reception on Friday, April 26 from 5:30 p.m. to 7:30 p.m. in the UAG located at 1390 E. University Ave, and will remain on display through May 11.
"dis-continuum" links MFA candidates Arevalo and Fernandez conceptually as they pull from their experiences growing up on both sides of the U.S.-Mexico border between El Paso and Juarez, making the complexities that come with their dual heritage center stage.
NMSU Visiting Assistant Professor Joshua Clark, remarks of their practices, "Arevalo's work addresses the strategies used in the systemic globalized oppression of the masses, and in Enriquez's work one can glimpse the results of this globalized capitalist system on a local and personalized scale."
Arevalo's work explores the manipulation of information and significant cultural symbols, serving as social discourse and scrutinizing the accessibility and manipulation of media. Enriquez's work embraces the hybridity of being "Chicano", the subtle complexities of identifying as both American and Mexican, and what it takes to navigate being an "other" in both cultures.
In "Reveries," the common thread between the BFA candidates from the Department of Art is their exploration and use of unexpected media--pushing the boundaries of their respective art practices to tackle controversial issues, like self-image, identity, intimacy and the current world around them.
Baxter, Larimer and Staples use ceramic sculpture and mixed media to address and explore ideas such as social judgments provoked by food and the female body, divine femininity and mysticism in place, and the dichotomy of consumerism and nature. Jones, Madrigal and Ramirez use paint, installation and performance to investigate themes of female identity, gender and sexuality, and social practice in very diverse ways.
This exhibition will also feature works by Trey Broomfield and Olivia Lemmons, who are currently part of the BFA capstone course. Their installations will inhabit alternative spaces throughout D.W. Williams Hall.
"Reveries" and "dis-continuum" will be the last full-length exhibitions at the NMSU Art Gallery's current home inside D.W. Williams Hall before 2020, when the gallery transitions into the University Art Museum in Devasthali Hall, currently under construction.
Programming for "dis-continuum: 2019 MFA Thesis Exhibition" includes an Artist Talk on Thursday, May 2 at 5:30 p.m. to 6:30 p.m. with Cleo Arevalo and Fernando Enriquez. For more information about this and other free, community-wide events, visit the UAG's website for more information. https://uag.nmsu.edu/