NMSU departments to host mushroom cooking demonstration April 9 Mushroom cooking demonstration to be held April 9 in Skeen Hall on NMSU campus.
By Melissa R. Rutter
575-646-4211
mrrutter@nmsu.edu
Apr 03, 2019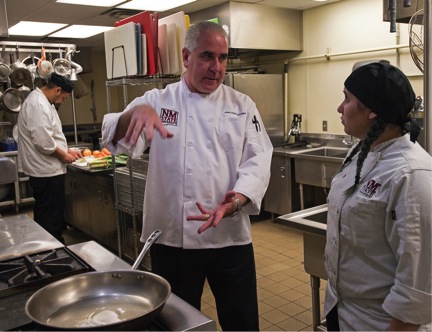 A joint mushroom cooking demonstration between New Mexico State University's Department of Entomology, Plant Pathology and Weed Science and the School of Hotel, Restaurant and Tourism Management will be from 10:30-11:45 a.m. Tuesday, April 9, in the rotunda of Skeen Hall.
John Hartley, college assistant professor in the School of Hotel, Restaurant and Tourism Management, will conduct the demonstration. The menu will include a consortium of mushrooms such as Shiitake, Portabella, Brown and White Beech and Grey and Yellow oyster.
During the event students from the Fungal Biology course will present information on the nutritional and medicinal properties of mushrooms including the ones on the menu of the demonstration.
"The course is built around the theme 'They Feed Us, They Heal Us, and They Harm Us.' The theme recognizes the roles of fungi in our environment from several perspectives," said Soum Sanogo, professor of fungal plant pathology. "They are what we call ecosystem service providers because they help in the degradation of numerous plant-based and non-plant materials and help plants acquire nutrients from soil. They are used as delicacies and in the making of foods such as cheese and bread and beverages. Some are also poisonous and cause illnesses such as Valley Fever, skin diseases and sick building syndrome."
The event is free and open to the NMSU and Las Cruces community. For more information, contact Sanogo at 575-646-3577.