NMSU TRIO staff members elected to state association leadership positions Three NMSU TRIO staff members have been selected to serve in leadership positions with the TRIO New Mexico Association
By Tiffany Acosta
575-646-3929
tfrank@nmsu.edu
Apr 30, 2019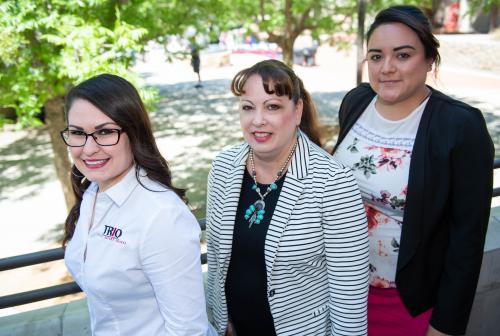 Three New Mexico State University TRIO staff members have been elected to serve leadership positions with the TRIO New Mexico Association.
At the annual state conference, Trese Collins, NMSU TRIO Support Services tutor coordinator, was selected as president-elect, and Bernadine Booky, NMSU TRIO Support Services mentor coordinator, was chosen as treasurer. Yesenia Talavera, NMSU TRIO Upward Bound Alamogordo student program coordinator, was selected as one of five TRIO New Mexico Emerging Leadership Institute participants.
"Once again NMSU staff are being recognized for their leadership throughout the state and region," said Tony Marin, assistant vice president of student affairs. "The selection of Trese and Bernadine to serve in their leadership roles as president-elect and treasurer by their TRIO NM Association colleagues also comes with an automatic appointment to the Southwest Association of Student Assistance Programs board of directors in which they will be able to advocate on behalf of low-income, first-generation and students with disabilities at the regional level. The selection of Yesenia for the TRIO NM Emerging Leaders Institute ensures a succession pipeline to the leadership of the TRIO NM Association. These three professionals will represent NMSU well."
Collins, who begins her three-year term May 1, is excited and honored to serve as president-elect.
"My goal is to bring awareness to the importance of education within our state and to pursue and promote opportunities for students to attend and complete a college degree. I am dedicated to working with other professionals in the field of education to promote educational access for all students," she said.
"In this position, I am able to advocate for our students while being a voice for them at the state, regional and national levels within the NMSU and TRIO community. By serving in this position, I will remain dedicated to the empowerment, development and achievement of our NMSU student population and will continue to support the needs of many students who are the first in their families to pursue a higher education," said Collins, who has worked with NMSU TRIO for nearly 10 years.
As a 2018 regional Emerging Leaders Institute participant, Booky was inspired to run for treasurer this spring.
"This institute helped me learn skills and take the proper steps to prepare myself for this type of leadership role. When I was elected for the treasurer position I felt proud that I had proved myself to be trustworthy and reliable enough for this type of responsibility. This position has a two-year term, so I know that I will be able to learn from some of the best leaders in education," she said.
"This position allows me to network with other TRIO Programs across the nation to find better and different ways to serve our students at NMSU. I am always looking to bring new things to the program to give our students at NMSU the best educational experience possible so they are not only successful in college, but in life after college," said Booky, who has worked with NMSU TRIO for almost five years.
Talavera is an inaugural participant of the New Mexico Emerging Leadership Institute, which Collins and Booky helped establish for the state. An NMSU TRIO staff member since November 2017, Talavera said she hopes her selection encourages her students to seek out leadership opportunities.
"I've always believed that true leaders are able to inspire their teams and lead by example. I hope that my students recognize that I am willing to step up to the plate, seek opportunities for growth and leadership development, just like I push them to," she said.
"I knew that participating in the Emerging Leaders Institute would give me the opportunity to gain the knowledge, develop the networks and find the mentors that could assist as I worked to make an impact for my students, and the students of my co-workers at the state level," Talavera said.
For more information on TRIO New Mexico visit https://www.trionewmexico.com.