NMSU Network and Security Group takes third at cyber defense competition NMSU finishes third at the Southwest Collegiate Cyber Defense Competition.
By Victoria Balderrama
575-646-1614
vbalde@nmsu.edu
Apr 30, 2019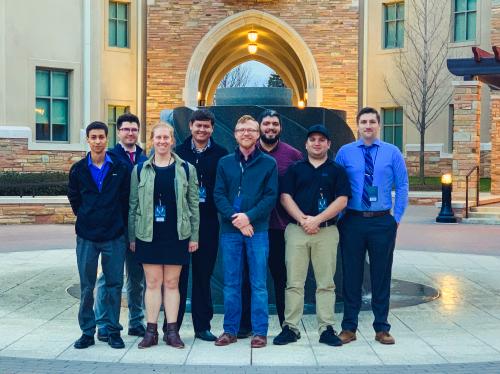 Keeping hackers away is critical for businesses, and the New Mexico State University Network and Security Group faced that issue at the Southwest Collegiate Cyber Defense Competition. The team recorded a third-place finish, its best since first qualifying for the regional in 2015.
The competition is for college students that exercises both technical and business skills. The objective is for teams to secure, manage and maintain a small business network—responding to business tasks called injects while a live Red Team is attempting to break into the system—and keep a core group of critical services for the simulated business.
The first qualifying round was held Feb. 16, in which 21 college teams were eligible to compete. Eight of these teams went to Tulsa, Oklahoma, for the regional competition March 22- 24.
"This year the technical challenges in the competition were taken to a new level. So, the way we prepared wasn't so much about strategy but going in with a general plan," said Philip Braker, assistant professor, associate department head and ICT program coordinator and adviser.
According to Braker the CCDC is an extremely intense competition that has and will continue to challenge students. The competition is at a high degree of vigor to prepare for tomorrow's workforce. NMSU placed fourth in the 2015 Southwest Collegiate Cyber Defense regional competition.
The Network and Security Group from NMSU is made up of students in information engineering technology, information and communication technology and computer science programs. Molly Givens, information and communication technology freshman, said "the big step for next year is to include the group as a whole as well as increasing the technical content as a group and overall work to improve the skills for next year's competition."
This event is sponsored by Raytheon, Walmart and a host of other companies that are involved in cyber security. For more information about the NMSU Network and Security Group visit, https://nsg.nmsu.edu/.