Michael Ray receives NMSU's spring 2019 'A' Mountain staff award Michael Ray receives spring 2019 "A" Mountain staff award at the NMSU's Founders Day event.
By Victoria Balderrama
575-646-1614
vbalde@nmsu.edu
Apr 26, 2019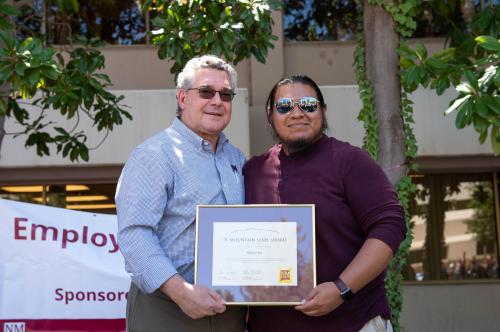 The New Mexico State University "A" Mountain staff award recognizes an NMSU staff member who demonstrates the core values of leadership, excellence, access, diversity and inclusion and student-centered.
At the fifth annual Founders Day celebration, the spring 2019 "A" Mountain award was presented to Michael Ray, director of NMSU's American Indian Programs.
Ray is of Laguna Pueblo and Red Lake Chippewa heritage. He grew up on the Laguna Indian Reservation for most of his childhood and attended all of the educational programs that the reservation offered. Ray attended various higher education institutions including NMSU Grants, Southwestern Indian Polytechnic Institute, University of Pennsylvania and NMSU. He has worked at NMSU for almost nine years.
"I feel good when we are appreciated for the work we all do that is above and beyond and brings our campus community together," said Ray.
In November 2017, Ray received the Stephen W. and Robert E. Roberts Memorial staff award. When he is not at work, Ray spends his time visiting family in the community of Laguna Pueblo or visiting his fiancée who attends medical school in Sacramento. In the future, Ray would like to attain a Ph.D. and further his career in higher education.