Three Aggies join NMSU Board of RegentsThree Aggies join NMSU Board of Regents
By Carlos Andres Lopez
575-646-1955
carlopez@nmsu.edu
Mar 07, 2019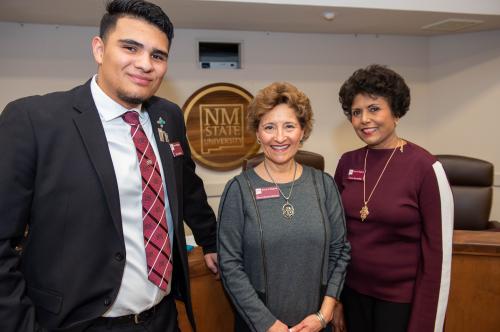 Three newly appointed regents will begin serving on the New Mexico State University Board of Regents after taking the oath of office Friday, March 8, at the Las Cruces campus.
Dina Chacón-Reitzel and Ammu Devasthali, both NMSU alumnae, and Luke Sanchez, an undergraduate biology student, were appointed to the NMSU Board of Regents Feb. 26 by New Mexico Gov. Michelle Lujan Grisham. The state Senate has since confirmed all three.
"We are fortunate that the governor, through a rigorous vetting process, has appointed three exceptional and accomplished Aggies to be regents of NMSU," NMSU Chancellor Dan Arvizu said. "I am confident they will help us achieve the aspirations we have outlined in our 2025 NMSU LEADS strategy. I look forward to working closely with them to advance our university to be the best it can be."
Chacón-Reitzel, executive director of the New Mexico Beef Council, will serve a six-year term, ending Dec. 31, 2024. Devasthali, an advocate for the arts, will complete the remaining four-year term of a departing regent, ending Dec. 31, 2022. Sanchez, the student regent, will serve a two-year term, ending Dec. 31, 2020. They each will take the oath of office Friday during an 8 a.m. ceremony in the Regents Room of the Educational Services Building on the Las Cruces campus, 1780 E. University Ave.
"We are thrilled to welcome our new regents as part of our leadership team. They will contribute tremendously to NMSU's success," NMSU President John Floros said. "One comes with significant experience in leadership, governance and board activities, another with an extensive background in the arts and humanities, and a third with the passion and energy of a current NMSU student. All three are proud Aggies and ready to make this a better university."
Devasthali has worked and volunteered for more than 15 years to promote the arts community in southern New Mexico, having served on many boards and committees. She and her husband, Rama, spearheaded grassroots efforts to raise private funds to help build the ASNMSU Center for the Arts and Devasthali Hall, NMSU's new visual arts facility slated to open later this year.
Devasthali earned a Ph.D. in Soviet Literature from Moscow State University. She also has two master's degrees from NMSU. She and her husband also received honorary doctorates at the fall 2018 commencement ceremony in December.
"I have lived in Las Cruces for about 32 years and have earned two master's degrees from NMSU, but I had never considered seeking the position of regent until this year," she said. "I felt that I was ready to serve and that I could contribute to moving our university forward."
Among her goals, Devasthali she said would work with the university's leadership to achieve the objectives in the NMSU LEADS 2025 plan.
"I strongly believe in shared governance. I will work diligently to bring all stakeholders together so that we could accomplish great things for our students, faculty and staff. I know that we have big challenges ahead, declining enrollment and retention to name just two," she said. "I have confidence that if we all pull together in the same direction, we can continue to fulfill the land-grant mission of our institution – to serve the educational needs of New Mexico's diverse population through comprehensive programs of education, research, extension education and public service."
Chacón-Reitzel, who has a Bachelor of Science in home economics in business and a Master of Business Administration in marketing and management from NMSU, has been the executive director of the New Mexico Beef Council for 30 years. Before joining the beef council, she worked for several years in NMSU's Cooperative Extension Service.
Since 2003, Chacón-Reitzel has served as the NMSU delegate to the Council for Agricultural Research Extension and Teaching, a role in which she advocates for federal funding for NMSU and other land-grant universities across the country.
"I'm indebted to NMSU," she said. "They provided me an education and the opportunity to better myself for a lifetime. I'm immensely grateful to the university for the opportunities that they've given me, from my education to my career."
In her role as a regent, Chacón-Reitzel wants to work to increase funding for NMSU and add value to students' education.
"We need more funding to be able to do the things that we need to do at the university. It's a matter of thinking out of the box for opportunities to raise funds from public or private entities," she said.
"I really would like to add value to our students' education," she added. "That means academics, most importantly, but I think it's looking at providing opportunities for our students to do research, giving them the opportunity to travel, and expanding their education in addition to academics."
Sanchez, who is pursuing a Bachelor of Science in biology, is a junior research scholar at NMSU's Howard Hughes Medical Institute Program. He expects to graduate in 2020 and plans to pursue a master's degree at NMSU before applying to medical school.
"I am both humbled and honored to have been selected as the next student regent. After considering the role and responsibilities of a student regent, I knew this was a position I would love to be in. I am incredibly excited to be in a position to facilitate positive change on campus and in the greater state of New Mexico," Sanchez said.
"Having recently been appointed, I am still taking the time to set realistic, achievable goals for myself as the next student regent," he added. "I know one of these goals will be to continue to represent the students of NMSU and offer a student perspective to the board as a whole. I also aim to inspire a more informed and engaged student population at NMSU."