NMSU's "Global Connections" series travels to mountains of Central Asia New NMSU "Global Connections" event to tackle the changing landscape of Central Asia.
By Matthew Legarreta
575-646-7953
mattleg@nmsu.edu
Mar 12, 2019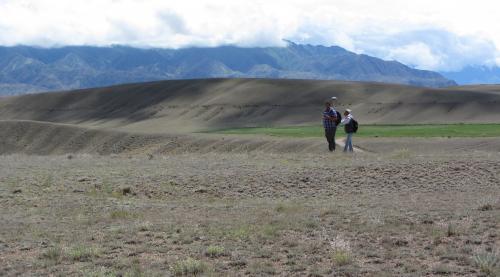 The latest installment in the "Global Connections" seminar series at New Mexico State University will focus on a recent trip deep into the mountains of Central Asia conducted by NMSU assistant professor Reed Burgette.
The talk, titled "Building the Heavenly Mountains: Geology and Culture in the Tien Shan of Kyrgyzstan," will take place at 5:30 p.m. Wednesday, March 13 in the College of Health and Social Services Auditorium, Room 101A. Burgette will lead the presentation, which pulls from his experience traveling to the region in the summer of 2016.
Burgette, alongside then-NMSU graduate student Jascha Coddington, traveled to the Tien Shan in order to study the deformation of the mountains in the area, which are actively growing.
"As India collides with southern Asia, Asia is getting shortened, and much of that shortening is happening in the Tien Shan," said Burgette, who specializes in neotectonics within the Department of Geological Sciences at NMSU. "This plate tectonic deformation is accommodated by numerous individual faults and folds that displace the surface of the Earth during earthquakes."
The Tien Shan, which translates roughly to "The Heavenly Mountain" or "Mountains of Heaven," is nestled within the country of Kyrgyzstan, a little discussed region of Central Asia that shares a border with Kazakhstan, Uzbekistan, Tajikistan, and China. Due to its highly mountainous terrain, Kyrgyzstan operates in mostly geographical isolation, even compared to its neighbors.
"I hope people who want to learn something about Kyrgyzstan, or how the Earth is deforming as a result of these regions colliding, will come to see this talk," said Burgette.
This is the seventh year the College of Arts and Sciences has offered its "Global Connections" series, which features faculty members' trips around the world. The purpose is to provide an opportunity for members of the campus and surrounding community to listen to and ask questions of NMSU professors and students who have the opportunity to travel to exotic locations.
All "Global Connections" lectures are free and open to the public.