NMSU rodeo to compete in Arizona March 23-24 NMSU's rodeo team is set to head to Huachuca, Arizona March 23-24.
By Faith Schifani
575-646-6233
schifani@nmsu.edu
Mar 21, 2019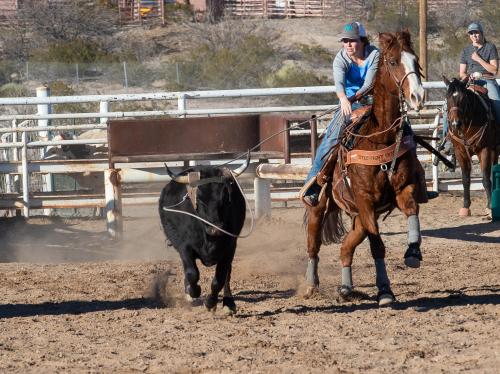 The New Mexico State University rodeo team will continue its spring season March 23-24 in Huachuca, Arizona.
This rodeo will be the first of the season scored as long-go short-go two head average, meaning the top 10 individuals in each event will go on to compete in a second round for overall points. Consistency is the name of the game according to NMSU rodeo head coach Logan Corbett.
NMSU has the largest rodeo team in the Grand Canyon region. Many individuals are continuing to rank at the top of their events after competing in a doubleheader March 9-10 in Casa Grande, Arizona and March 16 in Tucson, Arizona.
For the men's team, graduate student Dylan Riggins is ranked fourth in the nation in bareback riding and has won all three rodeos so far this spring. In tie down roping, junior Derek Runyan is winning the region and ranked in the top 10 of the nation.
For the women's team, freshman Jayde Wamal is ranked first in the nation for barrel racing. A big highlight at the Tucson rodeo was sisters junior Beth Schofner and freshman Abby Schofner splitting the win in breakaway roping.
"The spring is what seals your fate," said Corbett. "In the fall we have four rodeos, but so much can change with the six rodeos in the spring. You've got to do well in the spring if you want to get to the college finals."
"The women's team race is pretty tight, so I anticipate that we still have a really good chance of winning the region. Hopefully, we can hang in there in one of the top two spots for our men's team," he said. "The top two teams, men's team and women's team, at the end of the year get to take a team to the college finals."
For more information on the NMSU rodeo team, contact Corbett at 575-646-3659 or lcorbett@nmsu.edu.