NMSU rodeo team to host home rodeo events March 29-31NMSU to host rodeo at home Friday through Sunday.
By Faith Schifani
575-646-6233
schifani@nmsu.edu
Mar 28, 2019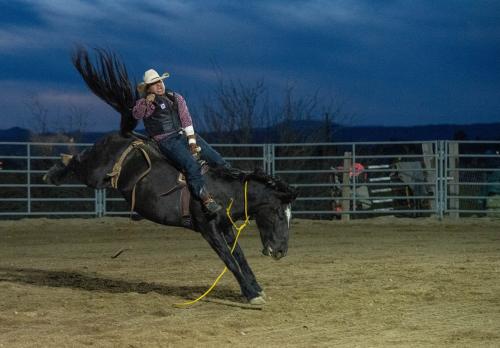 The New Mexico State University rodeo team will host three events during its home spring rodeo Friday, March 29 through Sunday, March 31 at Landmark Mercantile, 12000 Stern Dr., Mesquite, New Mexico.
The weekend will open up with the Dubois Invitational Bronc Riding and Calf Roping at 7 p.m. Friday. This is a play-off style competition where the last one standing is the winner.
The High School Challenge Rodeo will take place at noon Saturday. This is an opportunity for any high school student from any state to compete with the Grand Canyon Region and have a chance to win more than $13,000 in scholarships and prizes available.
The weekend will wrap up with NMSU competing against its opponents from the Grand Canyon Region at 1 p.m. Sunday.
Passes for the entire weekend are $25 or $10 for the day. Children 12 and under are free.
After this weekend, the rodeo team is set to head to Socorro, New Mexico April 19-20 for its final rodeo of the spring season.
For more information on the NMSU rodeo team, contact Logan Corbett at 575-646-3659 or lcorbett@nmsu.edu.