NMSU professor co-edits new book honoring pioneer of development ethicsKeleher releases new book on "Agency and Democracy in Development Ethics."
By Minerva Baumann
575-646-7566
mbauma46@nmsu.edu
Mar 07, 2019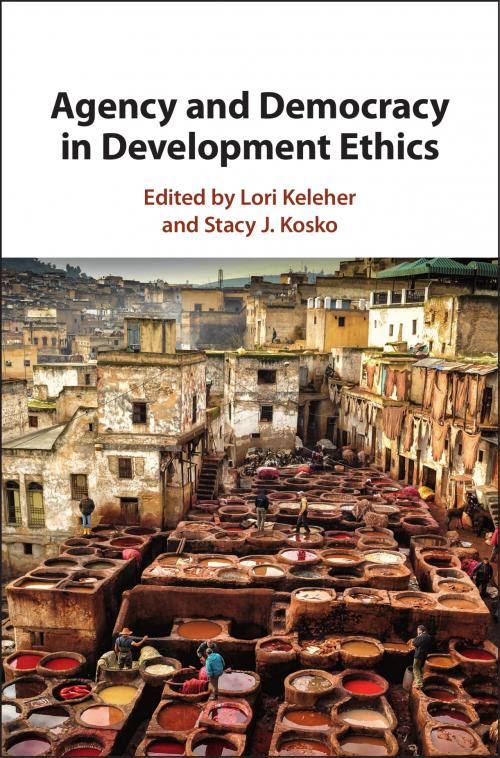 New Mexico State University philosophy professor Lori Keleher co-edited a new book to be released through Cambridge University Press in April.
"Agency and Democracy in Development Ethics" is a collection of essays honoring David Crocker, a pioneering scholar in the field of development ethics.
"Stacy Kosko and I were hoping to honor David by making a true contribution to the field that he pioneered, in a way that reflects not only the high-quality academic work his own contributions inspired, but also his personal talent and commitment to bringing diverse voices into discussion with one another, for the benefit of all," said Keleher.
Keleher and her co-editor, University of Maryland professor Stacy J. Kosko, gathered together the thoughts of the top thinkers in the field -- philosophers, economists, policy and development scholars and practitioners -- all of whom were inspired by Crocker's ideas about ethical ways to ensure development decisions and actions are more democratic, and promote the agency of local people.
In addition to editing the book, Keleher also penned the book's first chapter, entitled "Why Development Needs Philosophy."
"We are really proud of the book," Keleher continued. "The essays each make rich contributions to the field, but when read together, especially with Crocker's two chapters responding to the contributors, they advance the field in a significant way."
Crocker, founder and past-president of the International Development Ethics Association, organized a seminar at the University of Costa Rica in 1985 on "Ethics and Third World Development," as part of a conference. The organization seeks to formulate and apply ethical principles to the theory and practice of global, national and local development. Crocker became the IDEA's first President, a position he held until 2002. Keleher currently serves as vice president for the organization.
The book itself has received praise from Nobel Laureate Amartya Sen. "There may be little justice in the world, but it is wonderful to see an excellent collection of insightful essays on development ethics written in honor of David Crocker."
This is Keleher's second co-edited book on development ethics this year. The first book, "Routledge Handbook of Development Ethics," co-edited with Jay Drydyk, is described as codifying and advancing the field of development ethics. Among several philosophy courses, Keleher teaches two courses at NMSU on the subject of ethics and global poverty.
"Teaching my ethics and global poverty classes at NMSU allows me the privilege and the challenge of taking students from philosophical concepts and theories to so-called "real world" applications found in the policies of development," said Keleher. "I also do my best to open the world of development ethics to students by having scholars, many of them contributors to my book, join our classroom via Skype or in person."
Keleher is a fellow and on the executive counsel of the Human Development and Capability Association since 2017, which promotes high quality research including quality of life, poverty, justice, gender, development and environment in all disciplines - such as economics, philosophy, political theory, sociology and development studies. Keleher organized a major international conference in France last June. In August 2018, she launched the North American Regional Network for the HDCA, which she currently runs.