NMSU Model UN team prepares for national competition, local conferenceNMSU's Model United Nation's team is hosting a local Spring Conference and preparing for national competition in the final weeks of March 2019.
By Matthew Legarreta
575-646-7953
mattleg@nmsu.edu
Mar 15, 2019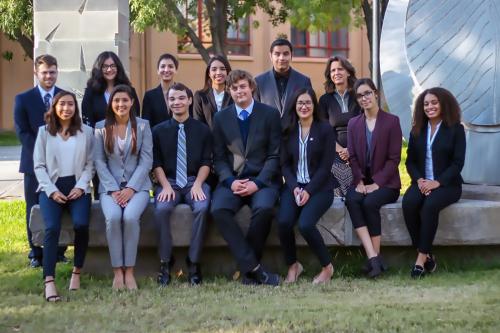 For 12 years running, New Mexico State University's Model United Nations team has earned top honors at the National Model United Nations Conference in New York. This year, as the team prepares for the international competition, they are also launching an expanded Spring Conference event.
The Spring Conference will bring together students from both NMSU and local high schools to participate in a mock United Nations summit, where they will learn what it takes to perform international diplomacy on a grand scale. The conference runs from 5 p.m. to 8 p.m. Friday, March 15 and 9 a.m. to 12 p.m. Saturday, March 16 at Hardman and Jacobs Undergraduate Learning Center, Room 225.
In years past, these conferences were primarily geared towards local high school students but, this year, the Model U.N. team decided to also open up the event to undergraduate and graduate students at NMSU.
"All we ask for is a willingness to learn about different cultures and issues around the world," said Fay Yurwit, the current secretary for NMSU's Model U.N. team. "We really welcome everyone who just wants to learn about the process and the United Nations, and who wants to improve their knowledge about it."
The Spring Conference serves as both an introduction to the world of Model U.N. for prospective students, and a recruitment tool for the NMSU Model U.N. team itself.
"I actually became involved in the team when I was in high school, and I participated in one of these conferences," said Yurwit. "That's part of what really solidified my trajectory in coming to NMSU, and being part of the Model U.N. team now."
Following work on the Spring Conference, the traveling team for the Model U.N. will journey to New York on March 23, where they will compete at the National Model U.N. Conference. The national conference brings together over 300 Model U.N. teams from institutions all across the world to participate in a four-day long competition, running from March 24 to March 28.
"The conference can have some very long days," said Marcus Sanchez, the current president of the NMSU Model U.N. team. "Some of them start as early as eight in the morning, and don't get out until like 10 or 11 at night. It is not uncommon for our team to operate on two hours of sleep throughout the event. But once you get to the United Nations in New York City and you are speaking on behalf of your country, it ends up being one of the most unique experiences you can have. It really opens your eyes to international relations, diplomacy, and problem solving."
The NMSU team, which this year consists of 12 students from various majors across the university, will be representing the country of Somalia during the mock summit.
This will be Sanchez's fourth and final year participating in the national competition.
"It's been the highlight of my college career," said Sanchez. "Being a part of the Model U.N., it's something that we work so closely together to do as a team. It's a yearlong commitment, and we're a small group, but we forge these strong friendships and relationships. It's almost like a little family. And I've been so proud to be a part of it the last four years."
More information on the Model U.N. team and their upcoming events is available at https://mun.nmsu.edu/upcoming-events/.