Anne Frank's stepsister, Holocaust survivor to speak in Las CrucesAnne Frank's stepsister and Holocaust survivor Eva Schloss will speak in Las Cruces Sunday, March 17.
By Minerva Baumann
575-646-7566
mbauma46@nmsu.edu
Mar 08, 2019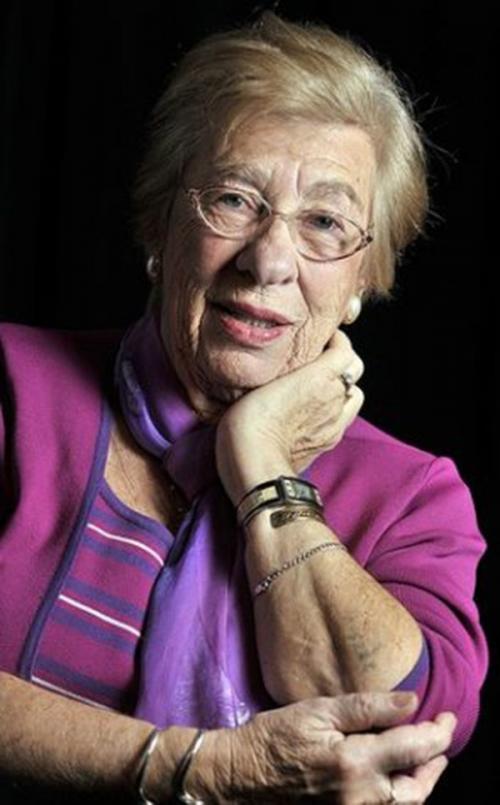 "The Diary of Anne Frank," written by a 13-year-old girl while in hiding during the Nazi occupation of the Netherlands, is considered one of the most powerful accounts of the human toll of the war. Her thoughts and observations have been published in more than 60 languages since 1947.
Although most of her family and friends are gone, Frank's stepsister and childhood playmate Eva Schloss will travel to Las Cruces from London to share her experiences, including accounts of the publishing of Frank's famed diary, at 3:30 p.m. Sunday, March 17, at the ASNMSU Center for the Arts.
Schloss, a 94-year-old Holocaust survivor, was a neighbor to Frank in Holland. The two girls became friends and playmates. Ultimately both girls and their families were deported to Auschwitz concentration camp. Later they would become stepsisters.
Since 1985, Schloss has devoted herself to Holocaust education and global peace. She has given more than 1,000 speaking engagements recounting her wartime experiences. She has had two books and a play written about her life. In 1999, Schloss signed the Anne Frank Peace Declaration along with United Nations Secretary General Kofi Annan and the niece of Raul Wallenberg, a man who rescued thousands of Jews in Budapest.
"Eva joins many courageous individuals who work tirelessly to end the violence and bigotry that continue to plague our world," said Ross Marks, NMSU Creative Media professor and one of the organizers for the event. "Her story is sensational and difficult to imagine, yet her insightful message reminds us that life is precious and fragile, that the creative spirit is stronger than fear, that the power of good is immeasurable, and that love makes a difference."
Chabad Jewish Center of Las Cruces is sponsoring the event with the support of many local individuals and businesses.
Ticket prices are $25. A Sponsor VIP package, featuring priority seating, a private reception & cocktail party with Schloss is also available.
Tickets are available at: www.JewishLC.com/AnneFrank