NMSU's Chile Pepper Institute reaches endowment goal; secures funding for chile pepper researchNMSU Chile Pepper Institute reaches goal for Chair to keep chile pepper research funded indefinitely.
By Melissa R. Rutter
575-646-4211
mrrutter@nmsu.edu
Feb 25, 2019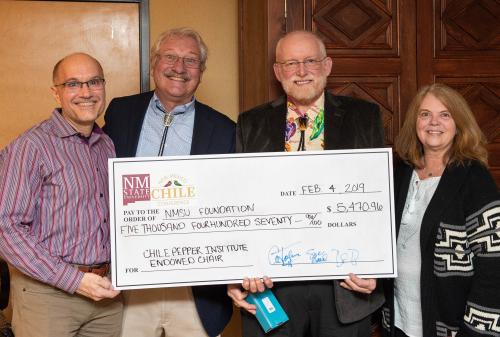 After 10 years of arduous work, New Mexico State University's Chile Pepper Institute has finally funded its $1 million endowment chair. The endowed chair ensures that funds will always be available for chile pepper research at NMSU. This will help in the search for a new Chile Pepper Breeding and Genetics faculty position in the near future.
The chair is officially named The Paul W. Bosland Chile Pepper Breeding and Genetics Endowed Chair. It not only honors the 33-year career of Bosland, who is the director of the CPI, and all of his contributions to the chile pepper industry, but also provides the university with this chair to recognize the 131 years of continuous chile pepper breeding at New Mexico State University.
"I am very, very honored to have the chair named after me. I didn't expect it," Bosland said. "I always tell people when I first came to NMSU that the media would ask me if chile peppers were a fad or a trend and now no one asks me that question anymore. We've really established chile peppers as part of our institution at NMSU and hopefully it will continue."
To reach this goal, the CPI received a lot of help from donors such as John and Sue Hard, who are founding owners of CaJohns Fiery Food Company in Columbus, Ohio, and Doug Renfro of the company Mrs. Renfros.
CaJohns' relationship with the CPI began back in 2008 when John and Sue made the decision to begin helping the CPI over dinner one night during a week-long trip to Las Cruces. They offered to provide the ingredients and supplies to start making a hot sauce with the proceeds of CPI sales going toward the institute and the endowed chair fundraising effort.
"We came in the next day to the Chile Pepper Institute and talked to them. We said you guys name the hot sauce and design the label and we will provide the products. We did and several chile products were developed and sold. There was amazing product growth," John said. "It also didn't hurt that the product line story was featured in USA Today when they released the basketball tournament brackets, which made it the number one USA Today issue sold for that year and it just kind of exploded. The institute kept 100 percent of the profit."
When the Hards found out just under $5,500 was needed to finish off the Chair they called up a friend to see what they could do together to complete the endowment.
"It feels really good, when you start with zero and look at it again when it's at a million, a huge number. We've watched it grow and Doug Renfro was very much involved in donating. I got ahold of Doug and challenged him and he said I'll help you finish off that final amount, so we split the difference," John said.
Bosland said this is a great accomplishment and achievement and now that it has been funded hopefully the search can begin for a new chile pepper faculty member.
"I am very proud and happy that so many people helped fund it especially CaJohns and Mrs. Renfro's. They presented us with the last check during the New Mexico Chile Pepper Conference for $5,470.96. We have great gratitude for them," Bosland said. "Hopefully now we can begin the search to replace me here NMSU because I will probably retire soon. We'll need to find a young scientist full of energy to take chile pepper breeding and genetics forward."