NMSU receives award for alumni magazine, PanoramaNMSU's Panorama magazine receives bronze award.
By Faith Schifani
575-646-6233
schifani@nmsu.edu
Feb 28, 2019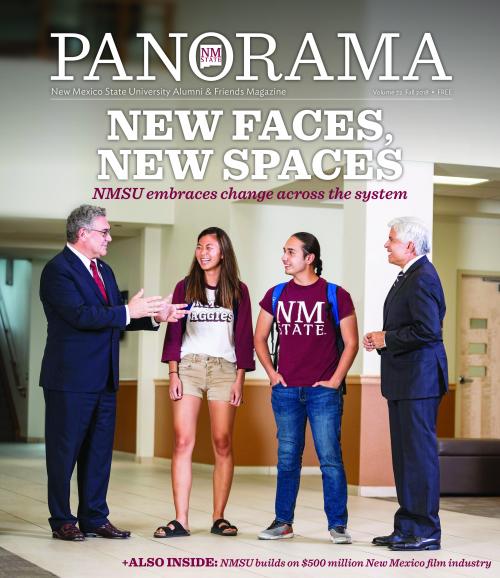 New Mexico State University was recognized with a bronze award for Panorama, NMSU's alumni and friends magazine, at the Council for Advancement and Support of Education District IV annual conference Feb. 25.
Panorama is a joint effort produced by NMSU Marketing and Communications and University Advancement. Panorama works to inspire pride and connection to the university by telling the stories of successful alumni, generous donors and outstanding faculty and students making an impact at the local and international levels, according to Angel Mendez, editor of Panorama.
"Panorama is one of our favorite Aggie pride-building initiatives, and our team truly enjoys telling the stories of the people behind what makes NMSU great," said Tina Byford, interim vice president of University Advancement. "The collaboration among the University Advancement, University Marketing and the NMSU News team is unheard of among many of our peer institutions. It's because of our critical ability to work together that Panorama continues to find the right stories that inspire and connect our alumni and friends, no matter where they are in the world."
CASE District IV is an innovator in the southwest, leading in resource development, training programs and marketing services, specifically in the categories of alumni relations, communications and philanthropy.
"Panorama continues to be one of the university's premier publications and it is a vital tool for communicating with NMSU's alumni and friends," said Justin Bannister, associate vice president for Marketing and Communications. "We couldn't do this without the help of our partners at the University Advancement and I'm so happy that everyone's hard work has been recognized. We're fortunate to have such a great team."
To view the online version of Panorama, visit http://panorama.nmsu.edu.