NMSU fashion program to host sustainable fashion show Remade Runway supports sustainability in fashion, featuring both upcycled and repurposed garments crafted from recycled materials.
By Kelley Coffeen
575-646-1183
kcoffeen@nmsu.edu
Feb 28, 2019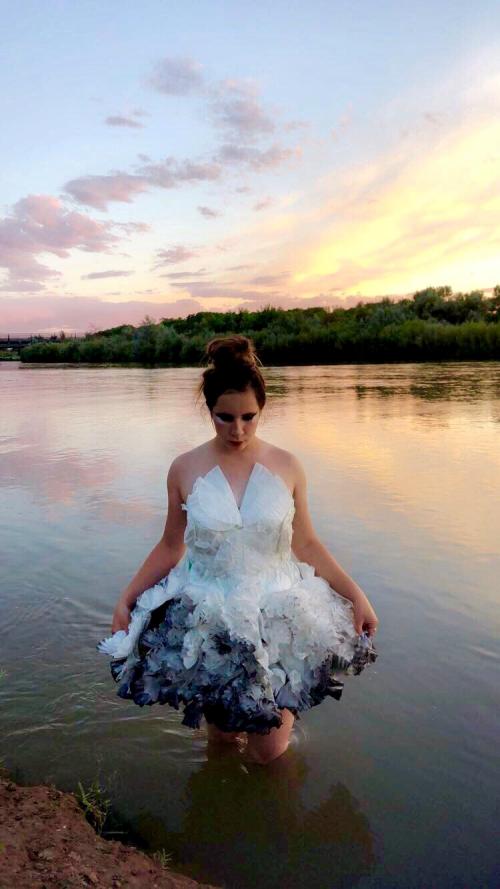 New Mexico State University's Fashion Merchandising and Design students and faculty will host Remade Runway, a fashion show supporting sustainability in fashion, featuring both upcycled and repurposed garments crafted from recycled materials.
As a picture-perfect way of combining fashion with art, the show will be held in the NMSU University Art Gallery along with the annual Juried Student Exhibition, giving guests the opportunity to also see the university's student artwork as our student models gracefully walk through the exhibition.
The show and exhibition will be at 6 p.m. Thursday, March 21, at the art gallery, located at 1390 E. University Ave. in Las Cruces. Additionally, NMSU's Floral Design Team will showcase a living garment design for the show.
Entry to this exciting event will be free to the public, although at the end of the show guests will be asked to tip their favorite garment. The most adored garment will be given the People's Choice Award. Proceeds will fund student travel.
Seating is limited; for more information please contact Kelley Coffeen at kcoffeen@nmsu.edu or Insook Ahn at iahn@nmsu.edu. 

The Clothing, Textiles, and Fashion Merchandising program, housed in the College of Agricultural, Consumer and Environmental Sciences, is an applied business program that focuses on the diverse aspects of the fashion industry. 

The degree plan brings together the creative aspects and competitive business knowledge needed in this fast-paced industry. It includes major courses in apparel construction and design, textile science, fashion merchandising and promotion with supporting coursework in areas such as art, accounting, business administration, communications, marketing and management. 

Students also have opportunities for practical experience through retail or design internships, development of professional business skills and attitudes, development of leadership skills, development of an understanding of cultural diversity and social responsibility.