NMSU faculty share discoveries in Ireland at 'Global Connections' event Latest NMSU Global Connections event focusing on trip to Ireland.
By Matthew Legarreta
575-646-7953
mattleg@nmsu.edu
Feb 05, 2019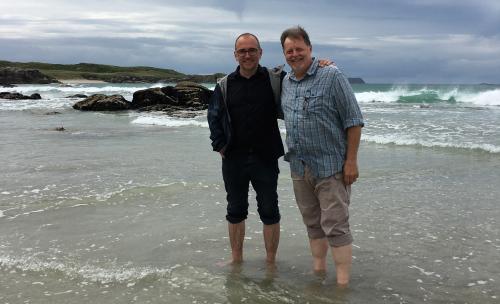 Two New Mexico State University professors will share their experiences leading a group of students on a trip to Ireland in the next installment of the "Global Connections" seminar series. Dan Dugas, assistant professor of geography, and Eric Morgan, associate professor of communication studies, will present "Meaning and Place in Ireland" at 5:30 p.m. Wednesday, Feb. 13 in the College of Health and Social Services Auditorium, Room 101A. During the presentation, Dugas and Morgan will discuss their recent trip to the Emerald Isle, in which they led a group of nine students in a two week long, immersive course that explored the intercultural communication and physical geography of the region.
"These trips have been such a wonderful learning opportunity for the students we have taken, and I want to share that," said Dugas. "I also want to point out how the students become excellent ambassadors, representing NMSU to another part of the world."
This is the seventh year the College of Arts and Sciences has offered its "Global Connections" series, which features faculty members' trips around the world. The purpose is to provide an opportunity for members of the campus and surrounding community to listen to and ask questions of NMSU professors and students who have the opportunity to travel to exotic locations.
The seminar will serve as both a guided tour of Ireland and an exploration into the changing cultural landscape of its people. Some of the main points of conversation that the presentation will touch on include the deeply meaningful landscape of Ireland, the link between landscape and language in the Donegal region, and the implication that Brexit might have on the future of the island.
The talk also will focus on the experiences of the students, and the knowledge that they gain from embarking on study abroad trips such as this.
The pairs' work on the program, which began with a trip to the country in July 2016, earned them the Outstanding Faculty Leader Award at the 2018 National Symposium for Faculty-led International Programs.
"I am excited to share the model that Dan and I have developed over these last few years, and how we have seen students transformed through these study abroad experiences," said Morgan. "I'm also excited to discuss some of the pressing environmental and political issues facing Ireland today."
All entries in the "Global Connections" series are free and open to the public.