NMSU TRIO Upward Bound programs receive STEM grants NMSU's TRIO Upward Bound programs receive grants for STEM education.
By Tiffany Acosta
575-646-3929
tfrank@nmsu.edu
Feb 06, 2019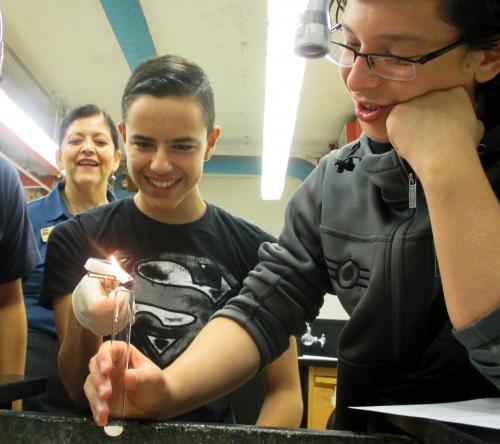 All three TRIO Upward Bound programs at New Mexico State University have received supplementary awards from the U.S. Department of Education for approximately $120,000 for STEM programming.
NMSU's Las Cruces Public Schools/Gadsden Independent School District, Alamogordo Public Schools and Hatch Valley Public Schools TRIO Upward Bound programs each received approximately $40,000 to include additional science, technology, engineering and mathematics components into the program's curriculum.
Upward Bound is a federally funded TRIO program, which is comprised of eight programs designed to identify and provide services for individuals from disadvantaged backgrounds. Upward Bound provides fundamental support to participants in their preparation for college entrance. The program provides opportunities for participants to succeed in their precollege performance and in their higher education pursuits.
Upward Bound serves high school students from low-income families, and high school students from families in which neither parent holds a bachelor's degree. The goal of Upward Bound is to increase the rate at which participants complete secondary education and enroll in and graduate from institutions of postsecondary education. The Las Cruces/Gadsden program serves 90 students from five target high schools (Las Cruces, Mayfield, Oñate, Gadsden and Santa Teresa), while 60 students are supported at both Hatch Valley and Alamogordo.
"STEM education creates critical thinkers, increases science literacy and enables the next generation of innovators," said Rosa De La Torre-Burmeister, TRIO Upward Bound program director. "STEM is the future, and as educators it is our responsibility to prepare the leaders of tomorrow to have the knowledge, skills and abilities by providing curriculum that allows for STEM computational thinking and project-based learning. This award is allowing each one of the programs to expand our collaborations and partnerships outside of the classroom."
The Las Cruces/Gadsden TRIO Upward Bound program in collaboration with NMSU's College of Business and Department of Accounting and Information Systems Assistant Professor Rajaa Shindi will begin including STEM projects in its Saturday sessions this spring semester, which prepares the students for the summer sessions.
Phase one of the collaboration will prepare the students to develop projects while applying STEM methods to a community service donation project in conjunction with TRIO day Feb. 23. Phase two of the collaboration allows students to explore the integration of computational thinking for structuring and processing their learning through extraordinary experiences in STEM. At the end of the summer, students will deliver their projects as a scientific research and business proposal.
"This isn't about just knowing the material in a given STEM domain; it's also about the breadth of a student's education," Shindi said. "We all hear it. Computational thinking, problem solving and critical thinking are vital 21st-century skills. At the college level, we need to be aligned with what's happening in technology, where so many aspects of professions are rapidly changing and improving. Our students will need to be adaptive in order to succeed."
The STEM initiatives at Hatch Valley have included students creating a digital portfolio, learning how to code using Java and developing digital media projects during the academic year, according to Lourdes Ambriz, TRIO Upward Bound program director for Hatch Valley. In the summer, she hopes to include STEM projects such as a cybersecurity camp at New Mexico Tech, STEM camp at NMSU's Las Cruces campus and a partnership with the Bureau of Land Management.
At Alamogordo's TRIO Upward Bound program, students are taking a computer science course during the Saturday sessions with a focus on Java programming using Alice, an innovative programming environment that makes it easy to create animation for telling a story. The course is designed to be a student's first exposure to object-oriented programming.
During the academic year, other STEM activities include participation in the Challenger Learning Center of Las Cruces' Lunar Quest Mission, learning about the science behind laser tag systems and hands-on experiments involving the physics of flight with wind tunnels, according to Toni Dixon, TRIO Upward Bound program director for Alamogordo. Along with summer STEM camps, Dixon hopes to expose students to professional careers through work-study partnerships with STEM-related industries.
For more information on the NMSU Upward Bound Program visit https://trioub.nmsu.edu