A focus on students. Floros' priority for a student-centric campus NMSU President Floros talks about focus on students
By Justin Bannister
jbannist@nmsu.edu
Feb 04, 2019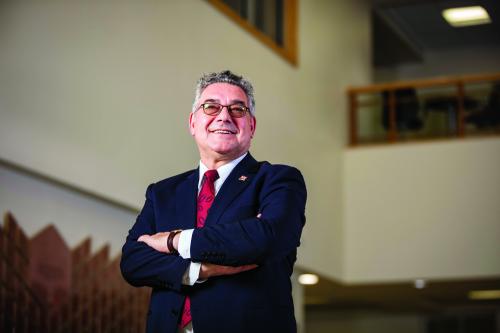 John Floros was born and raised in a small mountain community in Greece. His family was one of only about 300 in the town, and he was the first in his family to go to a university. This past summer, as Floros drove from Manhattan, Kansas, to Las Cruces to begin his job as New Mexico State University's new president, he found a sense of comfort as he noticed the Organ Mountains off in the distance.
"The moment I saw the mountains, it felt strangely like home," he says. "It truly felt like a place I had seen before. By the time I arrived, I knew I had made the right decision."
His story is strikingly similar to that of many in New Mexico, growing up in a small town, not too far from the mountains, and becoming the first in their families to attend college.
"People where I come from, they didn't get that kind of opportunity," Floros says. "I know many of our students at NMSU are also first-generation college students."
The key for Floros is to build a university with students, and their success, at the center of everything.
"We're going to look at students, student-related services and student metrics," he says. "In the Board of Regents' plan, students show up in many areas, and we have to address all of those together. It's not good to get more students if you don't keep them here. It's not good to keep them here unless you're graduating them. It's not good to graduate them if they aren't going to be successful once they leave the university."
Floros says improving NMSU's research portfolio will also benefit students. The university's mission as a land-grant institution is to provide education, research and outreach to the people of New Mexico.
"Increasing our research operation will help us continue to attract the very best faculty members from around the world, which then benefits our students and the education we provide," he says. "It also makes it possible to transfer that knowledge through our Cooperative Extension Service and other outreach programs throughout the university to improve the lives of the people in our state. We can't be a successful university without a healthy, growing research enterprise."
Before coming to NMSU, Floros was dean of the College of Agriculture and director of K-State Research and Extension at Kansas State University. He led the development of that college's strategic plan and guided it to record student enrollment, retention and graduation rates.
Now at NMSU, Floros will look to achieve many of the same goals. Like the university's new Chancellor Dan Arvizu, Floros shares the belief that NMSU must take bold steps in order to shape the future.
"We have to approach education in a different way because students today need different skills," Floros says. "The vast majority of new jobs being created are ones for people with a college degree, and we need to ensure our students are ready for those jobs. Between our education, our research and our outreach efforts, I want NMSU to be one of the top land-grant universities and the top Hispanic-serving institution in the country."