Second-annual Innovation Summit hosted by NMSU's Arrowhead Center a successSmall businesses from across the nation met to learn how their innovative ideas could be funded through federal opportunities.
By Del Mackey
575-646-1815
delmacke@ad.nmsu.edu
Jan 22, 2019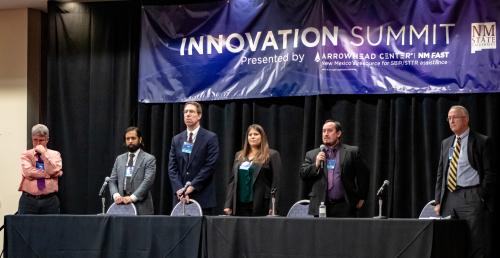 Last month, small businesses from across the nation met at the Albuquerque Convention Center to learn how their innovative ideas could be funded through federal opportunities.
Now in its second year, the Department of Defense Navy SBIR/STTR Innovation Summit, hosted by the New Mexico Federal and State Technology Partnership program at New Mexico State University's Arrowhead Center, expanded upon the successes of last year's inaugural event. This year, the event drew in more than 140 attendees, including participants from other southwest region states like Utah, Arizona and California. The summit was also broadcast to 12 satellite locations in Arizona, Hawaii, Kansas, Nebraska, Oregon, Texas, Utah, Montana, North Dakota and Washington. Live streams from Facebook and YouTube also helped the Summit reach a wider audience.
Small Business Innovation Research (SBIR) and Small Business Technology Transfer (STTR) programs provide equity-free federal research and development dollars to small businesses to move their technology further along the commercialization pathway, a key driver for regional economic development and growth. Eleven federal agencies participate in the SBIR and STTR programs.
These programs are a strong example of how investment into the innovation ecosystem drives small business growth forward.
"SBIR is a highly competitive program that encourages small businesses to explore their technology potential and provides an incentive to profit from its commercialization," said John Garcia, New Mexico District Director for the U.S. Small Business Administration. "More than ever, SBIR and STTR programs are important because they hold the keys for economic development and job growth through new and innovative products in the U.S. small business sector."
This is great news for New Mexico businesses, as New Mexico currently ranks 19th in the nation for the number of SBIR and STTR awards, and was granted only 73 awards totaling $28.7 million in 2017.
The summit focused on the Department of Defense (DoD), which uses SBIR/STTR programs to solve critical mission problems they face.
"I have the ability to make a bet for $225,000 that you'll knock it out of the park and solve my problem. We have the ability to work together, to get that relationship going, because we don't know each other yet," said Robert Smith, director of the Department of the Navy SBIR/STTR programs, during his keynote address. "It's tough, but I have to tell you, once you're in the family, or part of the family, we want you to succeed. I also understand that maybe this time around, you didn't quite make the mark, but we like your work. And we've been talking. And we bet there might be a topic that you might just be a good fit for coming down the pipeline."
Successful engagement with SBIR and STTR programs was a theme for the summits' panels, which covered topics such as connecting with prime contractors and the value of these partnerships, additional funding opportunities, and a "tips and tricks" panel where prior and current awardees passed on best practices. All three panels provided interactive sessions where attendees learned from these experts and were able to ask them questions.
A highlight of the summit was private one-on-one sessions that allowed small businesses to speak directly with program managers from Naval Sea Systems Command, Space and Naval Warfare Systems Command, and the Air Force Research Laboratory.
In addition, the summit grew to include participation from prime contractors and federal acquisition partners, such as Sandia National Laboratories, the Federal Lab Consortium, and Lockheed Martin. Attendees were also able to sit down with representatives of these organizations and meet face-to-face to see how their technologies might fit within the organizations needs.
"At first, it was just we're doing this to make our customer happy. And then we figured out, now we're doing this because it actually makes our platforms better, it makes them less expensive, and that in turn makes our customers happy. If we can deliver a better platform, that's less expensive, to the Air Force, to the Navy and the Army, everybody wins," said Craig Owens, SBIR program manager at Lockheed Martin Aeronautics.
Lockheed Martin has seen the value of the SBIR/STTR programs and has made them a focus for growth over the past several years.
The growth of the summit has been a highlight for Arrowhead Center at NMSU, current awardee for New Mexico's Federal and State Technology Partnership Program, which assists applicants pursuing these grants.
"The SBIR and STTR programs can be confusing and intimidating, especially to first time applicants," said Dana Catron, program director for NM FAST. "That's why we have developed a library of tools and resources, and hold events like the Summit, to help demystify the process for small businesses."
Now in its fourth year of funding, the NM FAST program helps New Mexico based small businesses navigate the submission process for their SBIR/STTR proposal packages, no matter the agency.
"This year, we want to grow the NM FAST program to provide more focused and direct assistance for businesses, and provide them with better opportunities to connect to possible partners, much like what the Summit provided today," Catron said.
The NM FAST program is funded in part through a cooperative agreement with the U.S. Small Business Administration.