NMSU's Pride Season to host four events, begins Jan. 30 NMSU's Pride Season begins Jan. 30 and concludes April 22.
By Melissa R. Rutter
575-646-4211
mrrutter@nmsu.edu
Jan 28, 2019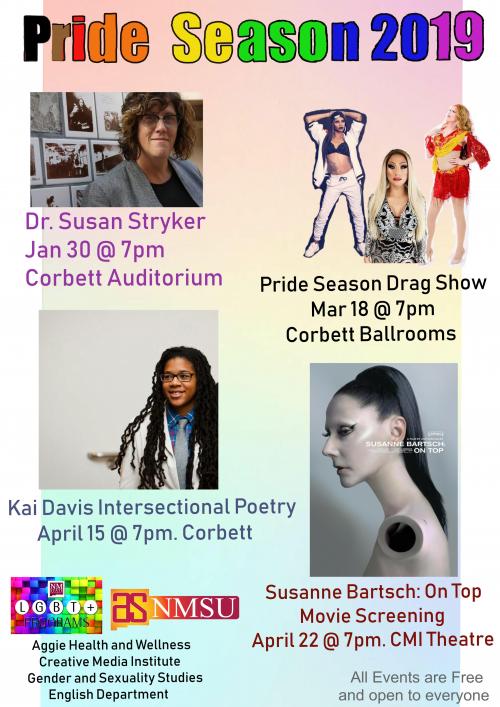 New Mexico State University's LGBT+ Programs will begin its Pride Season on Wednesday, Jan. 30. Four events will be held throughout the next few months starting with a lecture from Susan Stryker, an associate professor of Gender and Women's Studies at the University of Arizona.
Stryker's lecture will begin at 7 p.m. in Corbett Auditorium. She will discuss her continued scholarship on transgender identity. Stryker is one of the founding voices in the discipline of Transgender Studies.
LGBT+ Program's annual drag show will be held at 7 p.m. March 18 in the Corbett Ballroom. The spring break party themed show will be hosted by national pageant queen Gabriella Stratton Galore and will also feature national stars Eva Alicia Jane, Sabrina Caprice Heartt and local and student performers with music by local talent DJ Beach Blast.
Kai Davis, a writer and performer from Philadelphia, will be performing her poetry work at 7 p.m. April 15 in Corbett Center's west ballroom. Davis has performed on CNN, BET, PBS and NPR among others.
"Davis' poetry is about the multifaceted intersections of our LGBT+ identity and it really speaks to Audre Lorde's very important claim that there is no single-issue struggle because we don't lead single issue lives," Pook said. "We are happy to have her and to grapple with who we are, how we are different and how we express our agency."
The last Pride Season event will feature a screening of "Susanne Bartsch: On Top." It will be held on April 22 in the Creative Media Institute in Milton Hall. The documentary covers one of the most influential figures in the New York club scene who helped to usher in drag and high fashion, and who helped to bring the national spotlight to the fight against AIDS.
Various events are co-sponsored by Aggie Health and Wellness, the English Department and Gender and Sexuality Studies. All events are also done in conjunction with ASNMSU and are free and open to the public.