NMSU leaders, alumnae recognized as 2019 'Women of Influence'Tina Byford and Leslie Cervantes will be formally awarded in February.
By Angel Mendez
575-646-1795
anmendez@nmsu.edu
Jan 23, 2019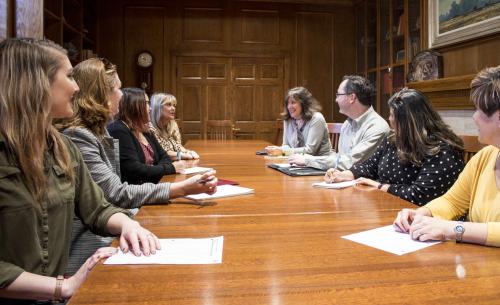 Two leaders of the New Mexico State University Foundation now lead the state as "Women of Influence."
Created by the Albuquerque Business First fifteen years ago, this year's Women of Influence honorees include Tina Byford, interim president of the NMSU Foundation, and Leslie Cervantes, associate vice president of alumni and donor relations. The publication's panel of judges selects only 20 women out of many more nominations from across New Mexico to receive the honor.
"To be nominated and then selected amongst a handful of New Mexico's inspirational women is quite the honor," Byford said. "As a leader, I know that our team looks to me to guide them in the right direction on a daily basis. I have the privilege of leading a female-majority staff, and because of that, I work to be a female role model for them, who we know, will one day lead their own organizations, hopefully in New Mexico."
Byford, who also serves the NMSU Foundation as chief operating officer, began her 30-year career at NMSU in the university's business and finance department in 1988. She received her undergraduate degree at Oklahoma State University before later earning both her master's degree and doctorate from NMSU. Byford is also a certified public accountant and a certified internal auditor.
Cervantes, a 1986 alumna from the College of Business, has invested her time and talent in Las Cruces, serving on more than a dozen professional and community boards, including local bank boards and the Las Cruces Chamber of Commerce. Before leading the NMSU Alumni Association over the last four years, along with directing communications, annual giving and stewardship for the NMSU Foundation, Cervantes worked as the executive director of the Las Cruces Public Schools Foundation.
"I'm proud to live in our great state of New Mexico, so being recognized at this level and by the people I care so much for is incredibly special," Cervantes said. "While helping raise my daughter Alyssa, I recognized early on the importance of showing her what it meant to be both a strong leader and a proud woman. Although she's my greatest accomplishment, I'm especially proud of this honor and will continue to use it as inspiration to do even more for the women around me."
Additional NMSU alumnae to be recognized are Kellie Mixon, a 1992 graduate from the College of Business, and Antonia Roybal-Mack, a 2003 graduate from the College of Agricultural, Consumer and Environmental Sciences. Mixon is the vice president and chief financial officer at New Mexico Mutual, and Roybal-Mack is a litigation and planning attorney at Roybal-Mack & Cordova in Albuquerque.
"These women, all of whom are NMSU alumnae, live the lives we hope every Aggie will embrace when they graduate. They are lives in service of others that tell stories of more than personal achievements and successful careers," said NMSU System Chancellor Dan Arvizu. "These women have made a lasting impact on those around them, and we're proud of their Aggie roots and desire to make change at home in our New Mexico communities."