NMSU honors one department, 14 faculty at 2019 Spring ConvocationNMSU honors one department and 14 faculty members during 2019 Spring Convocation.
By Jane Moorman
505-249-0527
jmoorman@nmsu.edu
Jan 15, 2019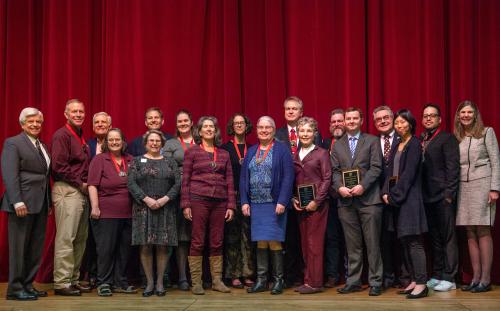 New Mexico State University faculty and staff were welcomed back to campus Tuesday, Jan. 15, during the spring 2019 convocation ceremony at NMSU's Atkinson Recital Hall. Every fall and spring, convocation is held to honor excellence on campus.
Fourteen faculty and one department were honored during the ceremony.
"NMSU's faculty and staff are some of the finest in the country and we're delighted to recognize their efforts," said interim Provost April Mason. "Each day, these individuals are contributing to the success of our students through their important work. We cannot thank them enough."
Three faculty members were recognized by the University Research Council for exceptional achievement in creative scholarly activity. They are Motoko Furuhashi, Department of Art; Patricia Hynes, New Mexico Space Grant Consortium; and David Mitchell, Klipsch School of Electrical and Computer Engineering.
Eleven faculty members were honored with the Donald C. Roush Excellence in Teaching Award. The accolade is named after Roush, a former NMSU executive vice president, in recognition of his 35 years of teaching improvement in New Mexico.
The Roush recipients are Frank Hodnett, College of Agricultural, Consumer and Environmental Sciences; Shaun H. Cooper, College of Arts and Sciences; Kim Seckler, College of Arts and Sciences; Terry R. Adler, College of Business; Joseph M. Berning, College of Education; Catherine Brewer, College of Engineering; Ernesto Moralez, College of Health and Social Services; Erin O'Neill Armendarez, NMSU Alamogordo; Robyn Hayes, NMSU Carlsbad; Krista Kozel MacDonald, NMSU Dona Ana; and Beth Humphreys, NMSU Grants.
The School of Hotel, Restaurant and Tourism Management received the Excellence in Assessment Award for its outstanding assessment processes.