NMSU grant renewal expands on 16 years of advancement in cancer researchNMSU grant renewal expands on 16 years of advancement in cancer research.
By Kaitlin Englund
575-646-2647
kenglund@nmsu.edu
Jan 03, 2019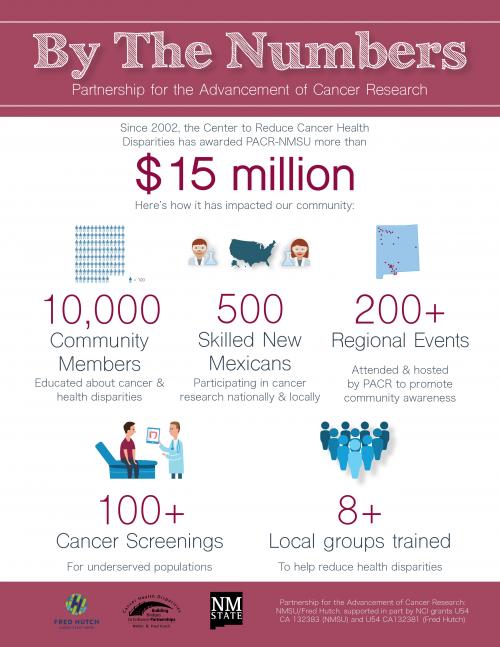 New Mexico State University's Partnership for the Advancement of Cancer Research (PACR) received a $5.8 million grant renewal from the National Cancer Institute to continue its efforts to bridge cancer health disparities in underserved communities.
The collaboration between NMSU and Fred Hutchinson Cancer Research Center in Seattle (commonly known as "Fred Hutch" or "The Hutch") has received more than $30 million in grants, shared equally since 2002.
Together, the partnership is diversifying the community of scientists underrepresented in cancer, cancer health and biomedical research by supporting programs for students, postdoctoral researchers and faculty. Partner institutions aim to grow and support the number of highly trained underrepresented students to have the skills and knowledge to fill cancer research positions throughout the nation and increase outreach efforts on cancer awareness and education to underserved populations in the Southwest and Pacific Northwest.
"I joined the team over 15 years ago and have seen the impact of the opportunities this partnership creates for NMSU students, faculty and staff," said PACR's new Lead Program Director and NMSU biology professor Graciela A. Unguez. "In this new cycle, we plan to continue improving the training of our students and junior faculty, while also building on our past success with community outreach to increase cancer screening - especially among the underserved in this region. This is a great opportunity for NMSU to be bold."
In the last 16 years, NMSU and Fred Hutch have trained nearly 700 students and 84 postdoctoral researchers and faculty in cancer-related research.
Reducing the cancer incidence and mortality rates of underserved populations requires multidisciplinary efforts involving teams of diverse investigators. The collaborative program between Fred Hutch, a National Cancer Institute-designated cancer center, and NMSU, a minority-serving institution, has allowed the two organizations to work together in a successful collaboration for 16 years.
The new five-year cycle includes two pilot projects and two full research projects that will run for three years and focus on health disparity issues in underserved populations. The projects will address topics such as diagnostic biases in predicting breast cancer risk, understanding social determinants of health, promoting healthy eating and gardening in Navajo families and efficacy of education programs for Hispanic mothers diagnosed with cancer. After three years, PACR will select additional projects to pursue for the remainder of the grant cycle.
The partnership is impacting the region through culturally relevant outreach programs designed for largely Hispanic and Native American populations. Recent efforts include educational and screening programs on colorectal and breast cancer, as well as programs centered around nutrition and wellness.
Through participation in health fairs and regional events, as well as training community groups on cancer screening and evidence-based practices, the collaboration has impacted more than 10,000 community members in New Mexico and West Texas by providing cancer and health education, access to outreach programs, cancer screening kits and more.
A key element of the collaboration's continued success is the inclusion of faculty, staff and students from a wide variety of disciplines in research and academia. The partnership engages individuals from the Cooperative Extension Service and five of the six colleges at NMSU: agricultural, consumer and environmental sciences, arts and sciences, business, engineering and health and social services.
As a testament to PACR's success, many program participants are continuing their research outside of the partnership in positions locally and across the United States. Current and previous program participants have accrued more than $24 million in additional funding for cancer-related research since 2007.
The funding comes from a large, comprehensive grant called the U54. With this $5.8 million, five-year renewal, Partnership for the Advancement of Cancer Research: NMSU and Fred Hutch will continue working towards creating lasting impacts for underrepresented communities.
For more information on the work of the Partnership for the Advancement of Cancer Research visit cancer.nmsu.edu or call (575) 646-5104.