Electronic, scooter-rental service to launch at NMSUElectronic, scooter sharing program to launch 60-day trial at NMSU.
By Tiffany Acosta
575-646-3929
tfrank@nmsu.edu
Jan 17, 2019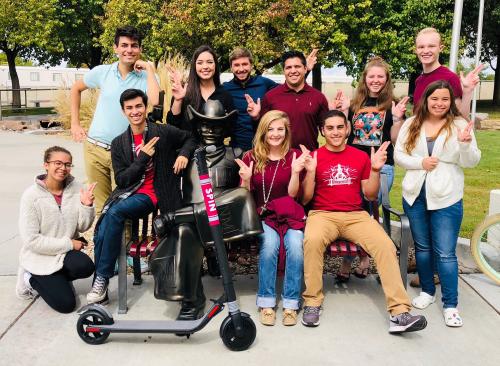 The New Mexico State University community and visitors will have a new transportation option for navigating campus with the launch of an electronic, dock-less scooter sharing rental company. The Associated Students of NMSU spearheaded the effort to partner with Spin. A 60-day trial begins on campus Friday, Jan. 18.
Owned by the Ford Motor Company, Spin's launch will include 100 scooters that will be collected daily at 7 p.m. and replaced at 7 a.m. Riders must use the Spin app to rent the scooters, and the cost is $1 per ride plus $0.15 per minute.
"I think this could be a real game changer for NMSU," said Emerson Morrow, ASNMSU president. "We need something to aid transportation and mobility, and I think this is definitely going to meet that need."
Daily scooter setup locations will include Corbett Center, residence halls and the Horseshoe. Riders can find scooter locations on the app. Riders should be aware of traffic laws and safety regulations.
After the 60-day trial, the program will be evaluated, so NMSU is encouraging university community members to provide feedback via email at spin@nmsu.edu.
According to Morrow, students were excited about a scooter-sharing program on campus, and he is eager for the launch.
"I'm so pumped," he said. "When I floated the possibility it was an immediate no, we just can't do that. Spin is a company that has effectively answered every question that has come up."
The Spin app is available for download through Apple's App Store or Google Play.