Ranchers invited to meet in Torrance County with NMSU livestock production expertsNMSU program at Estancia addresses livestock production.
By Darrell J. Pehr
575-646-3223
pehr@nmsu.edu
Nov 27, 2017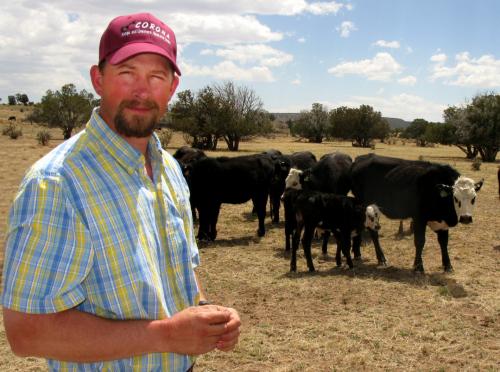 ESTANCIA, N.M. – Agricultural producers will gather with New Mexico State University experts Wednesday, Nov. 29, for a Ranchers' Roundtable discussion of range livestock production at the East Torrance SWCD Educational Building, 701 10th Street (at the fairgrounds).
"This will be another opportunity to reach out to livestock producers across the state, building on the success of our first two breakfasts, at Alamogordo and Santa Rosa," said Shad Cox, superintendent of NMSU's Corona Range and Livestock Research Center. "We'll have a good breakfast and then have ranchers ask questions of our livestock experts. It should be an opportunity for ranchers to become aware of specialized information that could help improve their cattle operations."
The event will be presented in partnership with the Torrance County Cooperative Extension Service office.
Topics of discussion at the event, "Let's Talk! Breakfast in Town," will depend partly on ranchers' questions, but experts on hand will be especially well-versed in cow/calf/stocker nutrition, reproduction and management.
The event will start at 8 a.m. with a free breakfast at the East Torrance SWCD Educational Building. The program will start at 9 a.m. and conclude about 11 a.m.
Among the experts from NMSU's College of Agricultural, Consumer and Environmental Sciences planning to be on hand are professor Eric Scholljegerdes in the Department of Animal and Range Sciences; Marcy Ward, Extension Livestock Specialist in Extension Animal Sciences and Natural Resources; and Craig Gifford, Extension Beef Cattle Specialist, also in Extension Animal Sciences and Natural Resources.
Register online at www.corona.nmsu.edu. For more information, contact Shad Cox at 575-849-1015 or shadcox@nmsu.edu.