NMSU to host eighth annual forage growers workshop in Los LunasNew Mexico State University Cooperative Extension Service to host eighth annual forage growers workshop in Los Lunas on Dec. 5.
By Jane Moorman
505-249-0527
jmoorman@nmsu.edu
Nov 15, 2017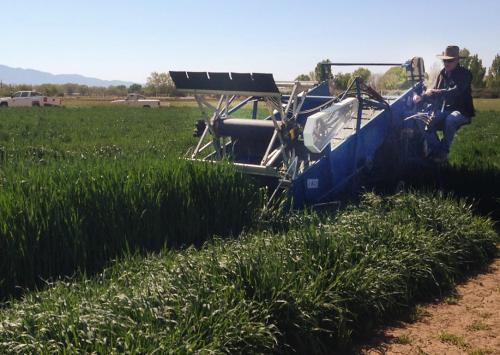 LOS LUNAS – The majority of New Mexico agricultural commodities are fueled by forage.
Of the state's $3.03 billion in cash receipts for commodities in 2015, 73.8 percent is from livestock and milk production, according to the U.S. Department of Agriculture's Agricultural Statistics Service. The primary feed source for those commodities is forage.
New Mexico State University's College of Agricultural, Consumer and Environmental Sciences helps farmers produce high quality forage efficiently by providing research-based information through workshops and publications.
NMSU's Cooperative Extension Service in Valencia County is hosting its eighth annual Forage Growers Workshop Tuesday, Dec. 5, to share the latest information. The workshop will be from 8 a.m. to 4:30 p.m. at the University of New Mexico-Valencia Campus, 280 La Entrada Road, Los Lunas.
Registration is $20, which includes program materials and lunch.
Craig Ogden, president of the New Mexico Farm and Livestock Bureau, will be the keynote speaker opening the workshop.
"For me, the value in attending each year is learning something new and I get to freshen up what I've learned in the past," said Eugene Abeita, Valencia County producer. "I really enjoy reconnecting with my fellow farmers. Also the timing and location is very convenient to acquire the necessary continuing education units for my applicator's license."
Participants may earn five CEUs for their New Mexico Department of Agriculture applicator's license.
Workshop topics range from permanent pasture grazing management to adding higher value crops into planting rotations.
"Growing forage is not just for hay production, but to increase carrying capacity of pastures for animal grazing purposes," said Newt McCarty, NMSU Extension Valencia County agricultural agent. "Leonard Lauriault, forage agronomist from NMSU's Agricultural Science Center at Tucumcari, will talk about maximizing permanent pasture longevity and stocking rates."
John Idowu, NMSU agronomist, will talk about alternative crops for rotation.
Increasing the value of agriculture in the local economy is an ongoing topic for producers.
Jim Libbin, NMSU Agricultural Economics and Business professor, will discuss agriculture's role and importance in the local economy.
Presentations addressing the various pest challenges of growing forage crops will include alfalfa weevil management and an update on white fringed beetles by Jane Breen Pierce, NMSU Extension specialist. Leslie Beck, NMSU Extension specialist, will discuss identifying and managing common weeds in forage crops.
"We're excited to have James Wanstall, NMDA resource specialist, back this year to demonstrate the benefits of using surfactants and adjuvants with herbicide applications."
Mark Marsalis, forage specialist at NMSU's Agricultural Science Center at Los Lunas, will share best management practices for Round-Up Ready Alfalfa.
"In addition to weed and insect pest management, Sam Smallidge, NMSU wildlife specialist, will talk about managing pocket gophers and prairie dogs," McCarty said.
USDA agency representatives will also present updates on programs available through the Natural Resource Conservation Service, Farm Services Agency and Valencia County Soil and Water District.