State's agricultural leaders to host listening session Thursday in Las CrucesSouthern New Mexico agriculture producers invited to state ag leaders' listening session in Las Cruces on Thursday.
By Jane Moorman
505-249-0527
jmoorman@nmsu.edu
Oct 30, 2017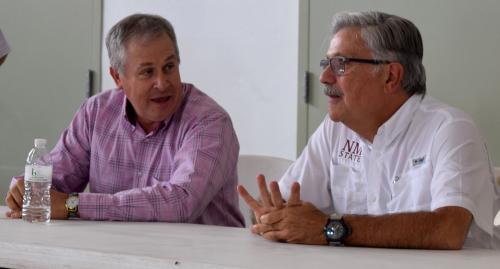 The dean of New Mexico State University's College of Agricultural, Consumer and Environmental Sciences and the secretary of the New Mexico Department of Agriculture will hold their last listening session Thursday, Nov. 2, in Las Cruces.
The session will be from 5 to 7 p.m. at the Dona Ana County Commission Chambers, 845 N. Motel Blvd.
The session will allow agricultural producers, and those with an interest in agriculture, to talk to and ask questions of the dean and secretary.
During their listening session in Portales in April and Abiquiu in July , Dean Rolando A. Flores and Secretary Jeff Witte heard agricultural producers' concerns ranging from the public's perception of agriculture and the national Farm Bill to agricultural resources for public school students, genetically modified organisms and the status of the college's Agricultural Science Centers.
"It is important to hear from our constituents, especially face-to-face," Witte said. "There are many issues and opportunities to explore, and these listening sessions afford each of us with information directly from those we serve."
The listening sessions project is one more opportunity for Flores to meet the state's agricultural community.
"Agriculture plays a key role in New Mexico because it impacts the lives of everyone and it is at the center of our state's community and economic development," Flores said. "Listening to the people we serve will help us tune our academic, research and outreach efforts to better address the needs of our communities."