Ranchers invited to meet in Guadalupe County with NMSU livestock production expertsNMSU program at Santa Rosa addresses livestock production.
By Darrell J. Pehr
575-646-3223
pehr@nmsu.edu
Oct 13, 2017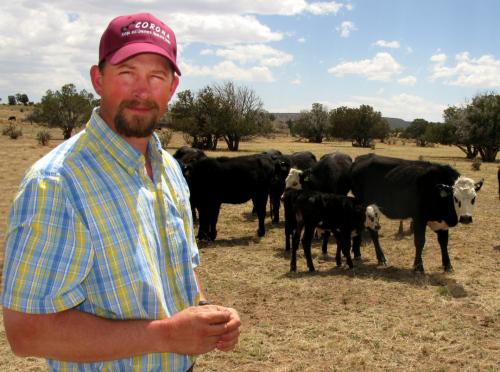 SANTA ROSA, N.M. – Agricultural experts and producers will gather Wednesday, Oct. 18, for a Ranchers' Roundtable discussion of range livestock production at the Blue Hole Convention Center, 1085 Blue Hole Road.
"This will be another chance to reach out to livestock producers across the state, building on the success of our first breakfast at Alamogordo last month," said Shad Cox, superintendent of NMSU's Corona Range and Livestock Research Center. "We'll cook a good breakfast and then have ranchers ask questions of our livestock experts. It should be an opportunity for ranchers to become aware of specialized information that could help improve their cattle operations."
The event will be presented in partnership with the Guadalupe County Cooperative Extension Service office.
Topics of discussion at the event, "Let's Talk! Breakfast in Town," will depend partly on ranchers' questions, but could include current or future nutritional needs and assessments, livestock vaccination and disease, reproductive physiology, artificial insemination and marketing.
The event will start at 8 a.m. with a free breakfast at the convention center. The program will start at 9 a.m.
Among the NMSU experts planning to be on hand are professor Eric Scholljegerdes in the Department of Animal and Range Sciences and Marcy Ward, Extension Livestock Specialist in Extension Animal Sciences and Natural Resources.
A simple lunch will follow with Beef Quality Assurance (BQA) training after lunch for those wanting to be certified, recertified or earn CEU's.
Register online at www.corona.nmsu.edu. For more information, contact Shad Cox at 575-849-1015 or shadcox@nmsu.edu or Guadalupe County Cooperative Extension Service Program Director Leigh Ann Marez at 575-472-3652 or lemarez@nmsu.edu.