NMSU breaks ground on hotel near convention centerNMSU breaks ground on new hotel project.
By Darrell J. Pehr
575-646-3223
pehr@nmsu.edu
Oct 13, 2017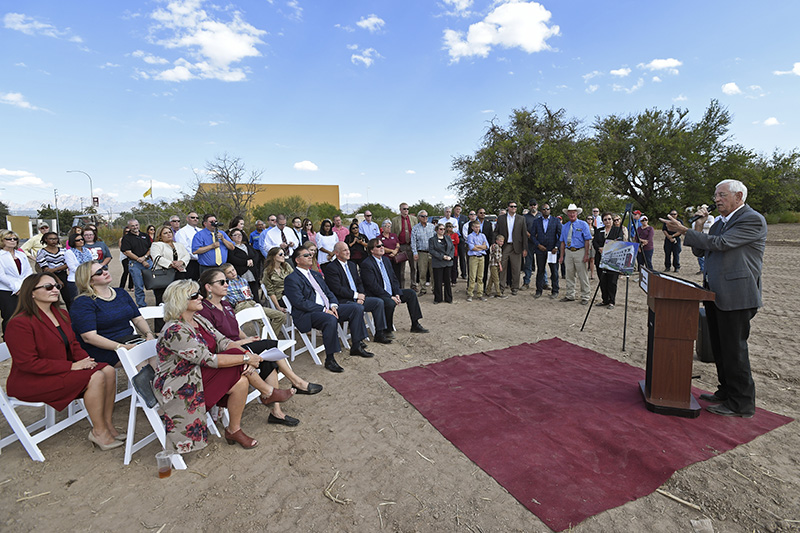 Officials gathered Oct. 12 to break ground for a long-discussed hotel project at New Mexico State University.
"We're delighted to move this project along, particularly since it's been 14 years in the making," said NMSU Chancellor Garrey Carruthers. "Located next to the Las Cruces Convention Center, as well as our eventual NMSU Heritage Farm and other developments in the area, this will certainly be a spot people will want to come and visit."
The hotel will be built west of the convention center and will provide a learning environment for students in the College of Agricultural, Consumer and Environmental Sciences' School of Hotel, Restaurant and Tourism Management.
"We're most excited about this project because developing a third-party hotel property on campus for the benefit of the community as well as our students is something that's been in the works for years," Carruthers said. "This hotel will serve the city's convention center, generate an additional revenue stream for the university and create opportunities for students in our School of Hotel, Restaurant and Tourism Management."

The hotel will be owned by a group that operates eight other hotels around New Mexico.
"New Mexico certainly has a rich history in hospitality," said Prakash Sundaram, president and CEO of Total Management Systems, the hotel's developer. "We're looking forward to working with New Mexico State University and the School of Hotel, Restaurant and Tourism Management in providing education and training for students interested in this field."
Members of NMSU's Board of Regents and city officials joined in at the event.
It is expected that the hotel will open in June 2019.