NMSU's AgSprint program selected as national host for Future Agro ChallengeAgSprint, an accelerator program at NMSU's Arrowhead Center, has been selected as the first and only U.S. host site for the global Future Agro Challenge.
By Amanda Bradford
575-646-1976
ambradfo@nmsu.edu
Sep 20, 2017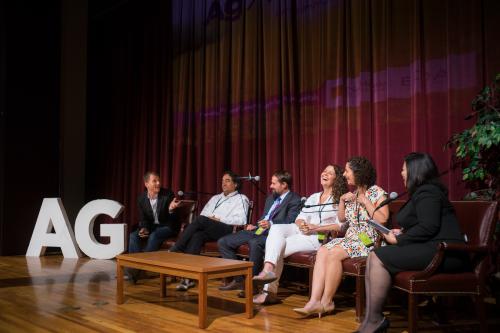 AgSprint, an accelerator program launched this year at New Mexico State University's entrepreneurship hub, Arrowhead Center, has been selected as the first and only U.S. host site for the global Future Agro Challenge, an international innovation and entrepreneurial competition for the agricultural technology sector and for all businesses that touch on agriculture.
Arrowhead Center's AgSprint is a five-month venture builder program funded by New Mexico Gas Co. and the U.S. Economic Development Administration designed to support innovation in agriculture. The inaugural cohort got underway early this spring and culminated in Ag Assembly, an event at which leaders and entrepreneurs in the world of agricultural technology presented and discussed ideas to help promote and develop agtech investments in New Mexico, as well as the global state of agriculture. The event took place Aug. 10 at the New Mexico Farm and Ranch Heritage Museum in Las Cruces.
As national Future Agro Challenge host, AgSprint will bring in promising "agripreneurs" for a startup battle competition, and sponsor airfare and hotel accommodates to fly a team leader overseas to compete in the global competition at the Global Entrepreneurship Congress in Turkey.
"AgSprint is thrilled to be the only U.S. site for this global event," said Zetdi Sloan, director of AgSprint and the Arrowhead Technology Incubator. "Our AgSprint program attracted an extremely high caliber of applicants, and this opportunity with Future Agro Challenge is one of the great partnerships that came from our work with these groundbreaking ag tech companies."
Applications for the Future Agro Challenge are being accepted from across the United States through Oct. 15, and the top 10 applicants will be notified on Oct. 20 that they are invited to participate in the national competition in Las Cruces on Nov. 16. The national winner will travel to the Global Entrepreneurship Congress in Istanbul, Turkey, in April 2018 to compete in the Global Future Agro Challenge.
To be eligible to apply, startups should have been in existence no longer than five years, have an innovative or scalable business idea or model in the food, agtech and agriculture sector, and have a minimum viable product. Applicants will be judged on innovation, scalability, job creation, impact, pitching skills, design and demonstration.
Globally, the Future Agro Challenge aims to bring together food and agribusiness stakeholders to find solutions to local, regional and global challenges and to revolutionize the food value chain. The most promising ideas and ventures are selected to compete in the Global Championships for the title of "Agribusiness of the Year."
For more information or to apply, visit http://arrowheadcenter.nmsu.edu/fac.